Name: Kiara Giles
From: East Lansing , Michigan
Grade: 11th
School: Michigan State University
Votes: 0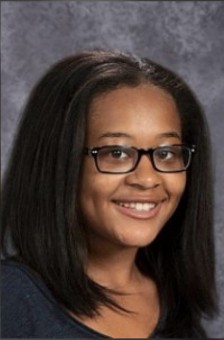 Kiara
Giles
Youth
Forward Scholarship
28
July 2017
My
Calling
When I was young the word adoption was never in my vocabulary. As a child,
you don't think to question how a two-month-old baby suddenly becomes
a part of the family. At a young age, I never thought that I would be
told I now have an adopted baby cousin named Marcus. Unfortunately,
Marcus's birth mother was a drug addict and this has affected him from birth
until now. His birth mother's addiction has caused him to have
medical issues that I have watched him grow up with. From his heart
stopping as a baby to his inability to cope in certain situations,
watching him grow up and helping my aunt take care of him has
triggered my passion to volunteer to help children in circumstances
similar to my baby cousin Marcus.
I have had the privilege of working with many groups of children due to
my father being a pastor at an inner-city church. As a preacher's
daughter, the community that I have always belonged to is religion.
My father became a Christian minister when I was a little girl and
ever since then I have never missed a Sunday service. With being very
active, socially and physically, in the church community I immersed
myself in numerous church activities to enrich my connection with in
the community. I volunteer with the youth at church for a variety
activities such as back to school rallies, harvest fests, vacation
bible school, usher board, choir, dance ministry, and even teaching
our youth ministry Sunday school class called EPIC. Each
event/activity takes place all throughout the year and varies
depending on the month.
Unfortunately, most of the children I encounter during my time as a volunteer are
extremely underprivileged and that is truly the hardest thing to
observe. The mindset of a child is so innocent and pure and they
truly do not deserve some of the lifestyles that they have been
given. Helping others has both ups and downs. Sometimes people are
not always as grateful and respectful as you want them to be. Based
on previous experience I always get a feeling of joy after I have
helped someone in need. At times, it can be a challenge because
people are not as grateful and like to take advantage of the service
given. When I encounter situations like that it makes it hard to
continue to want to help. At the end of the day you have to put those
type of people aside and focus on the people whose lives you may have
just changed. Despite the challenge as a volunteer I am always
grateful for the impact I have on others when helping them. The
reward is always the feeling of making a major difference in
someone's life. I love seeing people smile and walk away with a higher boost of
confidence after working with them. It's an unforgettable memory that will always be the greatest reward.