Name: Madison Neal
From: Rockwell City, Iowa
Grade: Sophomore
School: South Central Calhoun High School
Votes: 0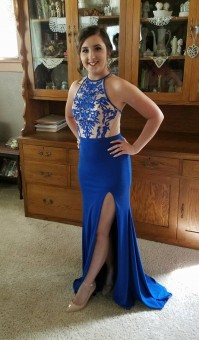 By Madison Neal
When a person chooses to volunteer their time for the good of others, they find a
greater sense of satisfaction in what they do and their character
they have built for themselves. No matter the background of a person,
we all become one when working together to help the community thrive.
I am the eldest child of a single mother. Growing up, I took on a lot of
responsibility after my parents got divorced. I had just become a
teenager when I found out my dad was getting involved with drugs. A
lot of violence and anxiety occurred in those dark times. With
younger siblings, I helped to support my mother support and care for
them in every way possible. When I moved away, I made the decision of
joining a church group to finally find God and be saved. As a member
of that youth group, we had the opportunity of volunteering to serve
breakfast at a benefit. This was my first volunteering experience.
I moved a year later during my sophomore year of high school. Getting older, I
realized if I could help people who dealt with troubles like I did,
my life would be complete. With this as my goal, I noticed there was
only one way to achieve it. This was when I joined a new youth group,
as well as the Rotary Interact Club.
I have been with the Rotary Interact Club for two years now. It is the high school
level volunteer group of Rotary International. I have volunteered in
my own county and surrounding counties with this group, as well as
volunteering on an international level, giving to African children in
need. Within this group I volunteer my time once every two months as
a group. I also mentor middle school children which is sponsored
through the group. This is a weekly occasion during the school year.
Rotary is such an inspirational volunteer group, not only in my
community, but internationally. I feel blessed to be a part of
something so incredible.
As part of my youth group, we participate in holiday shows put on at our parish.
Not only do we help run the shows, but we play the actors and do the
stage work. This is a yearly occasion for our group. We have also
create gift baskets for members of our parish every year and donate
our time serving free-will donation meals for the public. I have been
with this group for two years now.
As a volunteer for my community, there is no other joy greater than seeing the
smiling faces of people I have helped, whether they asked for my
assistance or not. It can be very difficult to find time, but when I
prioritized volunteering in my life, my spirits never fell. As a man
once said, "we rise by lifting others," and it could not be more
true.