Name: Oauniece Joy Heard
From: Dayton , Ohio
Grade: In that year I was currently a junior in highschool, however I am now I freshman in college
School: Spelman College
Votes: 0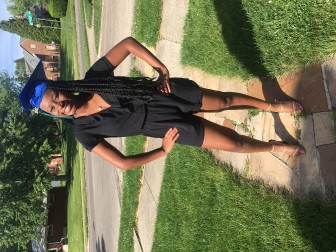 Oauniece
J. Heard
I went to a high school where community service was required every
year. Being as though my middle school did not have these
requirements, I did not like it at first. I saw it as a waste of time
and boring. However I soon found out that volunteering at different
sites would be the highlight of most of my days. I mostly chose my
volunteer sites at places that dealt with toddlers and babies.
One of my favorite sites was the Glen At St. Joseph. This is an
organization that helps single mothers get back on their feet. Being
there I learned to really love giving my time. I also found it very
enjoying giving my time to help the children. During the time I would
be there me and the other volunteers would watch, play, and read to
the children. Other places where I would volunteer would be MOPS and
St. Johns. There I would do the same as the other organization stated
previously. The only difference is that these places did not focus
only on single mothers. These were families who were either on their
way to bible study or needed a babysitter for the time being.

Even though I now enjoy being a volunteer, it has not always been
easy. I have ran into many situations that I had to overcome. One
major thing that I had to learn was how to manage my time. Now
managing time may seem easy to some, however for me it was a
struggle. I was not only a volunteer but I was a student athlete as
well. I would volunteer at least eight and a half hours a week.
Therefore balancing myself and remaining consistent with my service
sites was difficult. However I matured and learned how to manage my
time so that everything could be handled accordingly.
In the summer of 2015 I went on a mission trip to Niagara Falls, New
York. On this mission trip me and the youth of my church were
volunteers. We were assigned to a building where we helped clean,
fold clothes, build and paint doors. After all of our work was done
and everything was clean we were all very happy. The smile on the
woman's face who owned the building was so bright and she was very
ecstatic it made me happy. It made me feel good because I happily
gave my time to someone who needed it. Therefore making other people
happy because of the time i'm giving them gives me the most
satisfaction.
Being an active volunteer since my freshman year I have learned a lot. I
learned responsibility, time management, and how to make genuine
bonds. I learned that when you're dealing with people who you're
giving your time to because they need it, there's a maturity level
you must meet. Therefore you need to be responsible enough to be put
into settings like this. I learned time management, as stated before.
Having a lot to juggle throughout my high school years I had to learn
quick to adjust. Lastly it helped me learn how to make genuine bonds.
It pushed me out of my comfort zones to talk to people who i've
never met and make connections. Looking back now I'm grateful that
my school made it a requirement to meet a certain number of service
hours.
I chose to give my time to sites that dealt with children for one
specific reason. I love children and babies. I love taking care and
helping where a child is in need. Even though my career goal is not
all the way connected to my service sites it is close. I aspire to be
a Neonatal Nurse Practitioner that will care for premature babies.
The similarity between my career goal and my service site is the
passion to care for other people.
I see my activities as forward looking because I based where I wanted
to give my time off of my career goals. I knew I wanted to care for
and take care of children so I received experience through my
volunteering. Forward looking to me means that what you're doing
now you're doing it for your future. You're basing your actions
now to help you in the near future. Later in life If I came back I
know that my volunteer activities will make a difference. I know this
because the students who were younger than me were always there when
I was at the service sites. I have been told the saying "Even when
you think no one is watching, someone is always watching".
Therefore I know they were watching the way I was acting, moving, and
they saw the passion I had. So maybe my actions will bring change
upon them.