Name: Kayla Jones
From: Manhattan , Kansas
Grade: College Sophomore 2017-2018
School: Kansas State University
Votes: 7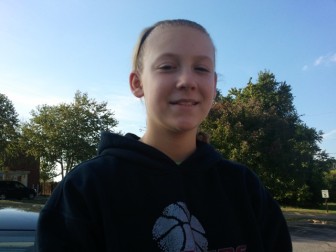 The kids who everyone look at as different, the kids everyone is afraid to speak
to, and the kids every parent doesn't want to have. The special
needs community is an amazing group and I am blessed every day to be
able to be a part of it. I chose to volunteer, as a high school
freshman, with the special needs kids because I thought it would be a
good thing to do. I figured I could do it once and then never have to
do it again. But no, there was something else in store for me. My
first time was during spring break with a group called Champions
Special Ministries. You pair up with one of the special needs kids
and basically just become their friend and help them and make sure
they keep focused on the activity. After that week my life was
forever changed and I am not just saying that. These kids are
incredible and they see the world differently than anyone else can.
I've spent about 150 hours the past three summers volunteering with
different special needs camps and becoming a buddy to a kid with
special needs. My biggest challenge has been becoming adaptable to
them. Every kid is different and I have worked with a lot of
different kids over the years. One of the most difficult weeks but
also the most rewarding is when I worked with a kid named Lucas. I am
not able to say exactly what special needs he has but some days were
extremely tiresome and hard. Patience is a humungous part of what you
learn working with these kids. The most satisfaction comes from being
accepted into their small group of people they trust. When they
finally hug you, or smile and laugh with you is when it all pays off.
I have learned so many things working with the special needs
community, but one of the most powerful things I have learned would
have to be adaptability. In order to be around these kids you have to
do a lot of fast thinking and changing your style. They could be
happy one minute and then in the blink of an eye super upset. Being
able to change my game plan and adapt to everything that is going on
is an amazing tool that you learn. Working with these kids has
actually propelled me into being a pediatrician and wanting to help
these kids in more ways than just through camp in the summer. My
dream is to own a pediatric private practice primarily for special
needs kids. Through my work with special needs kids I just hope to
see more people not look at them as if they need to be fixed, but as
though they are human beings just like everyone else. I don't think
if I came back in the future my volunteering would have made a
difference, but everyone volunteering together is going to make a
huge difference in the future.