Name: Maria Olympia Zedukes
From: El Cajon, California
Grade: sophmore in college
School: San Diego City College
Votes: 0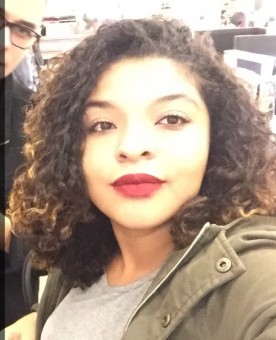 SCOLORSHIP
ESSAY: One Mind At a Time
By:
Maria Zedukes
My favorite word was "animal" when I was seven years old. The moment
my first grade teacher taught me how to spell it, I instantly fell in
love with the very idea of learning. Since then, school has always
been one of my top priorities. I love researching and figuring out my
own interpretations of answers. Additionally, I am not the 1st
generation in my family to go college but I will be the first in my
family to receive a PHD. I am a very aggressive studious student when
it comes to improving and achieving not only the best scores but to
learn as much as possible. I, as a student of color and a member of
this society, had been known to always ask questions and to always
speak up when I needed to, especially when it comes to showing my
potential in and out of the classroom. Throughout my whole life I
knew I had a certain knack for communication and dealing with
different types of people. I've always been socially involved from
being a student ambassador at my high school to being a Peer Advocate
here at SDCC for the last two years. I feel like I can help better
the world one mind at a time. That is why I know my heart, mind, and
soul has chosen this amazing community based program to be apart of
my route to further success.

I have attended San Diego City College for the past three years and it
was been eye opening. I am most grateful for all the volunteering
opportunities that have come my way. I was a part of the PSI Beta
Psychology Club here on campus for six months in 2015 and this club
not only was educational but very rewarding because of our volunteer
expeditions. One memorable volunteer trip was our experience at a
very humble incredible orphanage in Tijuana, Mexico named "Vida
Joven". This experience was unforgettable because I was able to
collaborate with my fellow club members in creating fun activities
and just hang out with all of those beautiful children. It was
amazing to see children who had such hardship in their lives be so
positive and excited over their lives. It was inspiring. My
responsibilities included heading the dream journaling and smoothie
making activities. My favorite moment was when a quiet little girl
commented that her journal looked "sunshiny" because it was
covered in suns and yellow glitter. This warmed my heart. I learned
how to have genuine fun, patience, and looking at life from a bright
"sunshiny" point of view.
Also, when I took Chicano Studies 141B with Enrique Davalos I helped out at
our motivational SDCC Social Justice Event. I was even apart of a
Border Patrol Brutality group project that was televised with a group
of my classmates from Davalos' class. These two opportunities
brought a lot of strength to my spirit and gave me more of a sense of
pride in myself. I am also a very active member at my church and
volunteer at as many events as possible. My church means a lot to me.
In addition, as I mentioned before, I currently work as a Peer
Advocate for First Year Services here at SDCC. I have to say this
project not only bestowed in me a real sense of responsibility but
also, patience, and organization because I am responsible for over
30+ students as part of my cohort and helping walk-in students in our
computer lab everyday. The biggest challenge for me was constantly
dealing with my self-worth and self-confidence. I always worry about
if I am smart and capable enough. I am continuously working on this.
I would say that that if I would come back and check up on these
communities in 5+ years I would see not only an embedded change in
these communities but in me. I have grown into my early adulthood in
these volunteering opportunities and I will always be ever so
grateful for that. Giving back to my community is very important to
me because I believe in the end all we have is each other and what we
absorb from one another.