Name: Julia Chabot
From: Lewiston, Maine
Grade: 12
School: Lewiston High School
Votes: 85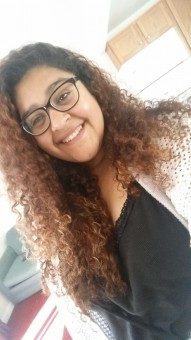 The way a smile changes a person's mood is often indescribable unless
felt first hand. Whether the person is smiling at them or the other
way around, both feel a sudden shift of pure happiness. This exchange
is passed from person to person that soon ends up flooding an entire
area of pure joy, making each and every smile better than the next.
That's what makes the job easier.
As a person who struggles with extreme asthma, volunteering for the
American Lung Association seemed like destiny. Their motivation and
drive to care for the people in need, and getting other major
corporations to tag along in their fun with ease draws people in like
butterflies to flowers. Especially their biggest event, the Trek
Across Maine. This event is for Bikers to ride 180 miles over a 3-day
period from Sunday River to Belfast. Company's sponsor each
individual rider to, essentially, do their best. My job is to ensure
that each biker is well taken care of during their ride by assisting
in proving snacks, beverages, etc. at one of the 3 rest stops. More
specifically, I'm the designated face painter.

As absurd as this sounds, it's quite an important task. With each rest
stop the bikers stop at, and with each day passing on, the bikers
become extremely tired. Pedaling up and down every winding, hilly
backroad that the path holds, these bikers withhold a lot of pain
within them, especially those of the older age groups. The biggest
challenge is just helping these people finish what they started, and
giving them hope that it'll be all worth it in the end. My job is
to simply make them smile, and what better way to do that than with a
little bit of paint. It gives the rider's a chance to sit and
relax, talk about their ride, and have some personal time with a
complete stranger who does one of the most important things needed
through their ride. I smile.
17 hours a year doesn't seem like a lot of time. To some it's almost
laughable. But 17 hours a year is plenty of time to experience one of
the most rewarding weekends of a lifetime. Watching each and every
individual rider walk underneath the tent, in pain, but with one of
the biggest smiles on each and every face proves that no matter the
difficult of the road, there is still every reason in the world to
smile. Being apart of that experience is one of them.