Name: Jody May Evans
From: Lucerne Valley, CA
Grade: 10
School: Lucerne Valley High School
Votes: 0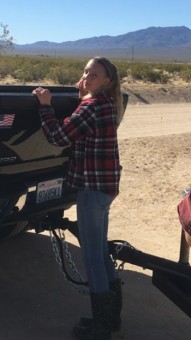 Jody
Evans
31784
Carson Street
Lucerne
Valley, CA 92356
(760)
559-9857
Re:
Youth Forward Scholarship
For the past five years I have volunteered at a local church, which I
attend. Ever since my family and I came to this church, I started
helping in a variety of ways. I have cumulatively volunteered 227
hours to the church: Crossroads Chapel. The average amount of hours I
volunteered each year was forty-five and-a-half hours. Some
opportunities which I have taken for involvement include yard work,
recycling, church work days, church dinners, and singing with the
worship team, which has been my greatest challenge.
When I was fourteen, my pastor asked me if I would be part of the worship
team; he told me to pray about it. I was terrified by the thought
that I would have to sing in front of the whole church. I had never
thought that I had a very good singing voice. However, after praying
about it each night for a week, I suddenly knew that it was something
I was supposed to do. That Sunday I joined the worship team on our
little, sanctuary stage. It took a while, but eventually I got more
comfortable, and I wasn't worried about making a mistake because I
knew that those listening were like my family members. Meanwhile, the
natural work around the church: pruning the hedges, pulling weeds,
recycling products to help earn church funds, cleaning tables and
chairs, setting up, serving, and cleaning up countless meals have all
served to bring me satisfaction.
I can't really say that any one type of volunteer work was more
satisfying than the other. It all made, and still makes me happy,
that while I'm spending time at church, I get to spend time with a
lot of great people who have become dear friends. With the experience
gained at Crossroads Chapel, it's easy to say that no matter where
I go, I'll find a church to serve and love. The tasks completed at
my church were forward-looking actions; all my volunteer work
could've, and still may affect others, whether it encourages them
to volunteer their time, or directly helps them in some way. That's
exactly the change I want to see in the world. I hope that someday,
more people become willing to sacrifice their time for others. People
are worth your time. That is one truth which I have come to realize
by using my time to help my church family.
Sometimes I wonder if I'll come back to my home town and still see the legacy
of the work I had done. Perhaps in ten years some of the projects
that I completed will still be here. I could respond, "I helped
build that walkway," or "I remember clearing out that room."
The best part is that in ten years or so, the younger children at the
church will be about my present age. Hopefully, they'll remember my
example of service, and they'll also be motivated to volunteer. A
chain reaction could take place, which could go on throughout the
years to come.