Name: Taylor Nichole Longmire
From: Bunn, NC
Grade: 10th
School: Bunn High School
Votes: 42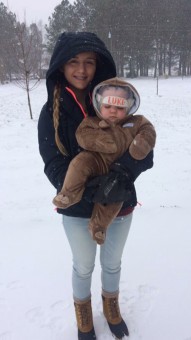 By:
Taylor Longmire
Time, it's the one thing we all have a limited amount of and no one can
escape from. It doesn't care how affluent, underprivileged, young,
or old we are. Sometimes it takes a life-altering experience to
completely understand how precious time is and how quickly it can be
stripped from us. For me, this experience was the birth of my baby
brother. I was sixteen when he was born. Although he was absolutely
perfect to our family, he was born with a rare condition that
required a significant portion of his skull to be removed to allow
proper growth of his brain. He underwent surgery at three months old
and was fitted with a helmet shortly thereafter. I realized then how
precious time is and how unbelievably fragile it can be. I have
always been an active volunteer with Habitat for Humanity and the
local animal shelters, but from that point forward, when choosing how
to use my time, I chose to make a difference in every life I touch.
My ultimate goal is to enroll at UNC Chapel Hill and pursue a medical
degree.
I joined the Junior Volunteer Program and began volunteering at Mariah
Parham Hospital shortly after my brother's surgery. I volunteer
every Monday and Wednesday for four hours each day (8AM – 12PM).
Offering my time at the hospital by volunteering
is extremely gratifying and allows me to be involved in activities
and situations that not only make lives better but are a part of my
future career path. I work in the ED (Emergency Department) under
the leadership of the Director of Nursing. Most of my time is spent
organizing files, typing notes, and other various administrative
duties. However, at times I get to interact with patients and that's
where the most fulfilling experiences arise. Looking past my own
needs and helping someone who is suffering is beyond anything I have
ever experienced. It's tremendously satisfying to know that I've
contributed in my own small way to make another person's life
brighter. My biggest challenge is realizing that we can't help
everyone. Being in the ED, where some cases are too severe, there's
too much trauma and damage to the body that it's beyond our control
to fix. We can still be a beacon of light and humanity even in these
darkest moments where time has escaped us.
This experience has taught me that while the amount of time anyone has on
this beautiful earth is far beyond my control, in that moment, that
precious span of time, I can make a difference. Volunteering has led
me to fill my life with positive actions and resulted in an amazing
sense of accomplishment along the way.