Name: Anna Van Bourgondien
From: Apex, NC
Grade: 9th
School: Apex Friendship High School
Votes: 0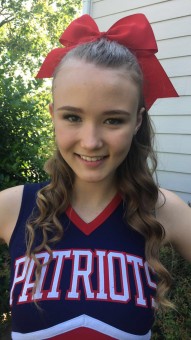 Project
Unify: A Passion
My favorite thing to volunteer doing is to help people; especially
children. I often tutor peers at my school, I volunteered for many
years at the local elementary school helping in a  second grade
classroom, and I have always enjoyed helping special needs children.
I have helped in these special-education classrooms in both middle and
high school, and am currently a part of Project Unify. I chose this
because I see these kids as equal; I think that they should treated
the same as every other person in their school, even though,
unfortunately, they are not. Most of all, I want these kids to know
that they always have a friend; I want them to know that when they
see me in school, they are seeing a friend that they can hug, talk to
and feel welcome to knowing.
I typically volunteer with Project Unify a few times a week; usually I
would do one or two "Pals lunches" in a week that were thirty
minutes each, and often did special events, projects and trips with
the kids. I always sat and talked with the kids and helped them to
work through the activities or tasks at hand. It can be challenging
working with them because sometimes they don't talk or communicate
like we do, or they don't behave or listen as normally, but that is
what makes it so fun because you can help them to turn whatever
difference they have into something that they and the people around
them feel is normal. 
I get the most satisfaction in connecting with one student specifically
and watching them succeed. It feels like a great accomplishment for
us both. 
It has also helped me to learn how to recognize how differences in
people can be very slight, but matter a great deal to them. I
continue to try to make these differences feel normal for everyone.
I want to be a physical therapist, and have thought about specializing
in working with kids with special needs. I think working with these
kids is "forward looking" because my goal is to stop the snickers
and stares, and create and overall understanding and acceptance, so
that everyone can help these special kids. I hope that in the future,
I can help and see these changes manifest in my school, community,
and throughout the world