Name: Serena Miser
From: Salem, Oregon
Grade: 10th
School: McKay High School
Votes: 0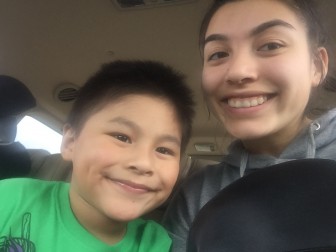 Do
We Really Care?
As
someone who has always enjoyed helping the community, I believe that
yes, we, the younger generation do care. We have goals, dreams, and
ideas to make this world a better, safer, and happier place for the
next generations.

As
I got into highschool I realized how important it was for the
community to see us, the younger generation showing how we actually
do care! Busting stereotypes of the typical teen, (always on the
phone, and or doesn't have values). That is not even most of us. As
for me I like to experience everything. So to say what area I
volunteer in, is hard to state because I do a variety of different
things. Like fighting for a healthy generation, learning about sexual
education, how to make my school look better, working with animals,
children, and knowing how a campaign works. (etc.)
The
hours I usually volunteer is 5-10 hours per week depending on if
there were big events going on and or other one time volunteer
opportunities that I can never pass up. My goal as an active
volunteer is to reach 1,000 hours of service by the end of my high
school career. Which I believe I can do with my hardwork and
determination. My responsibilities as a volunteer were and are either
fixing projects in a classroom, making posters, collecting shoes,
watching children. Phone banking, and or dealing with the public by
canvassing. I had a variety of different positions which I enjoyed
all of them equally.
I
believe the biggest challenge as a volunteer is knowing that you are
always going to take on something new almost every time you do
something. This goes to even the people that do the same thing every
time they volunteer when in reality, something is always a little
different. As well having a good time management between the school
life, social life, volunteer life, and maybe even the working life
It's easy to fall off the tracks but I always remember the why,
when I volunteer and how I'm making a good impact every time I go.
What has given me the most satisfaction would probably be knowing
that what I'm doing is making an impact in the long run because the
more I do it, the more I know who I'm doing it for and how it will
make them feel. What I have learned from my volunteer positions
would be to have compassion in what I am doing, and do it with a
purpose. I've become more grateful knowing that volunteering is
such a great way to help my community and learn new skills every time
I go.
Forward
looking I believe the skills and new perspective I gained from
volunteering will help me grow and strive as a person. Because, we
the future, do care.