Name: Taylor Nichole Cedillo
From: McAllen, Texas
Grade: High School Junior
School: St. Mary's University
Votes: 6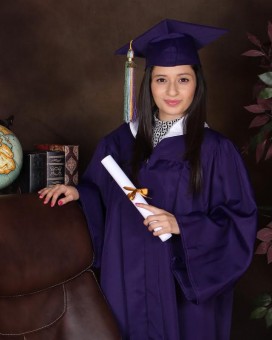 A
Reflection on the Lives of Others and Myself
Growing
up, I relied on my education, volunteering, work and school clubs as
outlets from the problems in my personal life –– divorced parents
who constantly fought, a brother who relied on drugs and had gotten
into four accidents, and my struggle with severe scoliosis — a
curvature of the spine of 47 degrees. Throughout my high school
experience, I volunteered for a total of 153 hours with National
Honor Society, the International Baccalaureate Volunteer
Organization, and Volunteer South Texas, worked over 670 hours since
May 16, 2016, and was the Co-President of two clubs at my school. As
an IB student, volunteering was a requirement; however, the more I
took part in my community, the more I understood I had a greater
purpose: to help those around me.
In
the fall of 2016, I decided to volunteer at the Doctor's Hospital
at Renaissance. I had volunteered a total of 48 hours over the course
of three months and on my final day in December, I asked to volunteer
at the Pediatrics department. As someone who was previously
volunteering in the Emergency room, which required me to answer "call
lights," ensure rooms were stocked with supplies, and shadow nurses
as they visited patients, I had the opportunity to understand the
darker reality of the world: people often get sick and sometimes,
there is only so much someone can do for them. With hope in my new
department, I quickly befriended another volunteer who explained what
we would be doing — organizing activities in the playroom and plays
games with the children. As she and I met with the supervisor of the
playroom, he handed us a list of patients we were allowed to visit
and invite for a colored sand art activity. Although the task seemed
simple, it proved difficult when it was time to do as we were
assigned. Each room had its own story, a child who was awake all
night due to severe pain and was now using the morning hours to
sleep, a child who hardly left their room due to their medical
condition, or a children we could not even speak to us because they
were under quarantine. After about 30 minutes, we returned to the
playroom and waited for children to show up. As every patient was
busy seeing their doctors, sleeping, or waiting to be released, one
child showed up. He was about 7 years old, his hair was missing, and
he was extremely skinny. While most people viewed him as fragile, I
knew he was anything but. His eyes showed determination to not let
his condition hinder him, despite being hooked up to a machine he
wheeled with him. As I spent time with him, I felt like I had reached
an epiphany: I could use the
experiences I have had with scoliosis to help children who may doubt
themselves as I aim to become an Orthopedic Spine Surgeon.