Name: Ailyn
From: Westfield, North Carolina
Grade: 11th
School: North Stokes High School
Votes: 0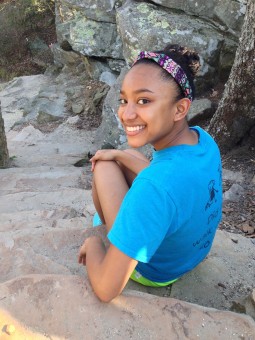 This summer, I chose to volunteer at the Seeds of Hope summer camp as a
camp counselor. Many of the children that I encountered came from
struggling families and/or foster homes. I chose to volunteer for
this non-profit to contribute to the lives of underprivileged
children, as well as to be a good role model for them to look up to.
The purpose of the camp is to help the kids take their minds off of
their home situations and to have fun. It does my heart good to know
that I am part of that. From 6:50 AM to 6:00 PM for a week, I was
volunteering and it was easily the best week of my summer. As a
volunteer, I was responsible for guiding my group to and from
activities, teaching them about the "Bible hero of the day",
playing/interacting with them and supervising them.
My biggest challenge during that week was hearing about a child's home
life and the struggles they face at home. No child deserves what some
of these have been through and not only was it hard to hear, but you
have to be careful about what you say and how you react to them. The
relationships I developed with some of the children is what I enjoyed
the most about being a camp counselor. For a week it felt like I had
a little brother or sister, we had inside jokes, nicknames, and most
of all we made wholesome memories. After a week of camp counseling, I
learned how attentive children really are, I learned how to
multitask, and overall I learned how to understand and empathize with
other people's situations.
My participation with Seeds of Hope aligns with my career because in the
future I would like to be a therapist. As a therapist, you work with
many underprivileged children who have had a rough upbringing and my
experience as a camp counselor will help with that. I see my
activities as "forward looking" because I showed these kids that
somebody cares about them and that they are not alone. In addition, I
showed them what a positive role model should look like and that it
is something they can take with them beyond summer camp. "Forward
looking" to me means making an impact on the environment or other
people's lives, it means to take actions that will better the future.

Through volunteerism, I hope to help underprivileged children feel loved and
cared for, I hope to share the word of God and change the way we
treat other people. I believe that in 20 to 30 years, I will have
made an impact on these children because the children I worked with
were so young and were also very impressionable. Therefore, the way I
interact with them now will affect them later.