Name: Brianna Lizette Bazan
From: Rio Grande City, Texas
Grade: 11th
School: Preparatory for Early College High School
Votes: 37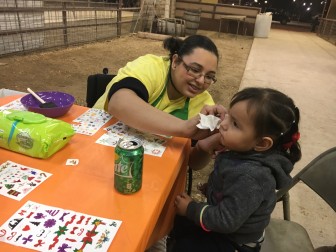 I chose to volunteer in the area of children and youth mainly because
I've always been drawn to creative and fun activities, which for
the most part is needed when volunteering with children. I've work
with children from months old by volunteering during my summer at a
local daycare summer camp where I helped kids make fun baking treats
and summer tee shirts, and up to the age of 17 where we volunteered
at a fitness camp to demonstrate the importance of health to young
kids. Volunteering is more of a hobby for mine because I never felt
obligated to go out and lend a hand; it was always something I wanted
to do. One of the main reasons I love to volunteer is the feeling I
get when I'm able to make a difference whether it's in my
community, or in the hearts of someone in need. Because of my
disability, I'm not able to do a lot of the things I would like to
do, for example play sports but what I can do, is lend a hand to
those who need it. My biggest challenge as a volunteer was always
been trying to prove to people that I was capable to helping others.
Most of the time when people look at me, they only see my disability
which makes it hard for people to trust in me that I'm able to
accomplish a task, but that didn't stop me from wanting to go out a
try! When I grow up I do have big plans for myself, because growing
up in a rural and small city where the population is 99% Hispanic and
1% diversity I've never been able to experience the world in a
different point of view. When I was 3 years old, I was in a car
accident and sadly I was left paralyzed from the chest down and bound
to a wheelchair, so growing up where resources and adaptability was
not always available was difficult. I've learned throughout my
volunteer experience that where I live, is not the most ideal city
for children to be able to get active in their community and develop
the skills needed for them to grow because as I mentioned before, the
lack of resources is great and I know I needed to do my part. My
responsibility as a volunteer is to be role model for these children,
and to help them develop that sense of creativity and independency
that will make them want to eventually become a volunteer too and
serve their community in a way that is needed. When I was younger,
older kids were in my position and I was that younger kid that looked
up to the volunteers, and now I'm filling in their shoes in hopes
to make a difference in that one child's life and do the same even
if it's a small task, I've automatically made a major difference
in their life and that's the best feeling I can ever have.