Name: Laura Ann Wilcox
From: Mechanicsville, Virginia
Grade: 11th
School: Hanover High School
Votes: 153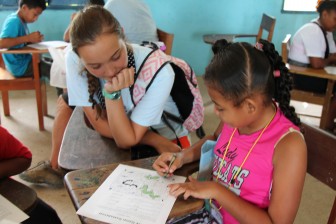 Every year I am blessed with the opportunity to travel to Belize, a poverty
stricken country in Central America, for ten days. In the planning
process, we talk about the 10 service filled days we have and what we
are capable of doing. We normally plan to build a playground or two,
paint some school buildings, and/or renovate the makeshift
classrooms. However, once we get there, we are blown away by the
adrenaline, determination, and work ethic the concept of serving
provides us with. We go above and beyond our expectations, normally
running out of supplies. We are able to find what seems like minor
details, like broken chairs, that we are able to fix to make a day at
school more bearable for the children. The most valuable thing about
the service we volunteer to do in Belize though, is the lives we
change. My team has been able to stay in the same village for 7
years, I've been able to go for 3. Having relationships with children
and families for several years has been unbelievably special. They
remember our names, we remember theirs. They remember our hearts, we
remember theirs. They remember our "American" jokes, we remember
their "Belizean" jokes, and they just become "our" jokes.They
remember our hugs, we remember theirs. Most of the time we volunteer
for a club or program because we have to have the hours for the
membership and we attend events and meet new people, but we never see
them again. Most of the time that's okay, you just needed the hours
after all. But because I went to Belize and because the people I met
remembered me, I realize how special sacrificing your own free time
can be. There are no relationships that I cherish more than the ones
that volunteering has laid in front of me.
As I move forward in life, I cannot imagine not serving. As I have grown
up, i have been able to see the world more clearly. I have realized
that this world is not as glorious as I once thought. I have learned
that it is up to me to fix that. I want to pursue a career in
elementary education, so that i may have an impact on the hearts and
minds of young people that are more than capable of changing the
world. If I did not start changing the world myself until I was a
young adult, my students will be able to finish the job. My students
and I can change the world through service, together.