Name: Huda Saleh
From: Anaheim, CA
Grade: 10th
School: Oxford Academy
Votes: 0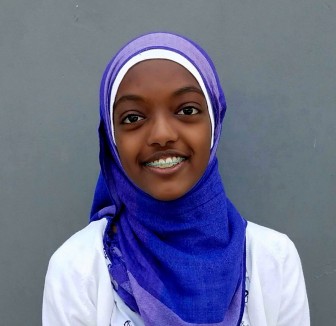 Service
with Spirit
"Can I go, too?" I pleaded to my older brother.
"No, you're too young," he replied back as he boisterously shut the
apartment door behind him.
It was a Saturday afternoon and I desperately wanted to go volunteer
with Key Club, but I wasn't in high school yet. Ever since I heard
and learned about Key Club, however, I was anticipating the day that
I would be able to go to volunteer events, too.
Once I joined in my freshman year of high school, I finally understood the
value of community service. While the events I volunteered for varied
each week, every place I went I felt reenergized. From working at the
arts and crafts section of countless festivals, to sorting and
distributing food to low-income families, to supporting runners
emotionally and physically by cheering them on and handing out water,
I enjoyed every minute I was able to help people (complete strangers,
actually). Just like Snoop Dogg gets "high" off of weed, I found
my own "high" — altruism.
In lieu of the fulfillment I got from volunteering with Key Club, I
decided to pursue leadership positions that focused on the service
aspect of the organization. I quickly came to find out that aiding
children globally was a primary goal of the club's initiatives
since one of the slogans is, "Children–Their Future, Our Focus."
Staying in line with this International slogan, I, along with other
Key Club officers at my school and division, diligently worked to
plan our own service-oriented events such as making peanut butter and
jelly sandwiches, non-slip socks, no-sew fleece blankets, and
organizing a school supplies drive. With each volunteer event that
I've attended or service project that I've planned, it was the
genuine "thank you's" and the enthusiastic smiles that
bolstered my spirit. It was rewarding to be validated that my time
was used wisely and for a good cause. Now as a senior having spent
more than 300 hours either volunteering or planning projects, I
honorably serve as my school's Key Club Vice President and I aspire
to motivate our members, particularly the younger ones, to volunteer
with a purpose: improving the lives of others.
Aside from Key Club, I have also looked for more career-related volunteer
opportunities, leading me to volunteer at the Fountain Valley
Hospital for three hours a week for more than a year now. From this
experience, I was able to immerse myself in a hospital environment
and discover that the medical field was not my path. Instead, my
leadership experiences with Key Club and other organizations have
peaked my interest in becoming a Business Administration major, more
specifically in Human Resources for a non-profit organization.
So, while my impact at Key Club events and the hospital may seem
relatively small now, these experiences are my gateway to affect a
significant change in the world for a better future– a future that
I'm anticipating just as much as I anticipated going to Key Club
events four years ago (if not more).