Name: T'Euvyn Page
From: Dayton, Ohio
Grade: 11th
School: Jefferson High School
Votes: 0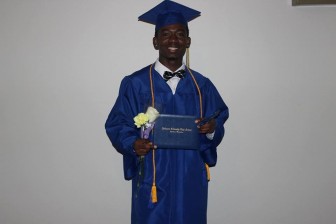 T'Euvyn
Page
Essay

27
July 2017
Solving Hunger in the Community

            Over the span of a few hours of voluntary work at the "The Dayton Food
Bank." I experienced the time and preparation the workers at the
company took on the daily basis to readily distribute food for over a
100 member agency food pantries, kitchens, shelters and Kids Cafes.
By giving my time of three hours a day, I believe it definitely
changed or bettered the lives of citizens.
In my time being at the company, I helped repack produce, made food
boxes for citizens, assisted in the food drive and distributed food.
These items consisted of vegetables, fruits, beans, and miscellaneous
items of your everyday food needs. The learnable aspect was to
understand how to sort and trash foods by reading the expiration date
and recognize that some items may still be good a few weeks after.
Because of my dedication, it became easier to complete things in a
timely manner. And still, enjoy every single moment to work for a
better cause.
While there, I was able to create and develop a relationship with the
workers. I was able to understand there time being there, why they
volunteer and the other vast opportunities the company can provide. I
also come from a background of hardships different from my peers so
the dedication became natural The acknowledgeable fact that these
people came from different backgrounds of ethnicity are what made it
easy to be and grow in this family setting. I learned that food
barrels set out within some our community businesses are brought here
and divided. The workers influenced me to take pride and stay honest
to my work.
I live in is a diverse population of some families that may have
special needs more than other families. Therefore, I wanted my
actions I took at this company to contribute to feeding those of who
I know and others who are less fortunate. I wanted to hopefully
spread love and peace throughout the community. I believe that nobody
shall go hungry and not know that there is someone out there willing
to help. And ultimately feel that they should have to threaten people
with families or businesses by robbing and stealing to help better
their own lives in a criminal manner.
Ultimately, this experience has impacted me in a way to appreciate life more and
remain humble. If I were to come back in the next ten or twenty years
I believe my impact would have influenced more people to help out.
Now I can be more appreciative and recognize those people who are in
my life to help me and the vast opportunities any task may bring. It
has developed my relationship building. I hope to really bring
awareness to their involvement within communities and the purpose
they serve, to "solve hunger." I want to personally donate to
some of our communities, the company and volunteer again within the
near future.