Name: Amber Dumstorf
From: Jeffersonville, IN
Grade: 10
School: Jeffersonville High School
Votes: 15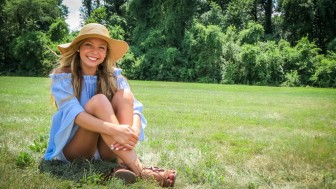 When thinking about high school, most people think of taking classes. That is what high
school is, isn't it? The occasional person will think of sports and
school spirit as well. What most people do not think about is
community service. During high school, I have learned just as many
lessons from community service has I have from my classes.
From my earliest years I have wanted to help others. My family helped me put that
desire into action at a young age. When I was in middle school I
started to make pillows for the homeless. I could not bear the
thought that there were families that had nothing to their name. The
least I could do was give them a pillow to sleep on. After I went and
donated the pillows to a homeless shelter I could not stop thinking
about the experience. I will never forget the look on the innocent
children's' faces when I gave them their new and colorful pillows.
It is truly a life-changing experience.
Since middle school I have been involved in my church, Key Club, Anchor Club, National
Honors Society and even more community service organizations. I have
branched out to other areas of community service as well. At first, I
decided to help the homeless. Since then I have been to many events
and helped out with many different types of groups including the
elderly, the handicapped, the less fortune, as well as my whole city.
Making community service part of my everyday life is very crucial. I
participate in at least 60 hour of community service per school year.
My schedule is very busy due to my course load as well as sports,
friends, and my family but it is important to include community
service into my routine.
I believe that my only responsibility as a volunteer is to bring a smile to the faces
of the people in need and to be respectful. The most important
objective of most of the events I work is to bring hope to the
community. Whether hope is in the form of a dance, smile, hug,
pillow, food, or anything else does not matter. My biggest challenge
as a volunteer is seeing all the people in need and not being able to
help all of them.
My goal is to spread happiness, hope, and joy. Even if I can only make one person
smile during the whole event it was still worth it because I could
bring a glimpse of joy into that one person's life. You never know
what someone is going through and maybe that glimpse of joy just gave
them the hope they needed to go home that night and live for another
day. I hope to be able to continue community service for the rest of
my life and hopefully spread even more hope.