Name: Lauren Balino
From: Alameda, California
Grade: 11
School: Alameda High School
Votes: 11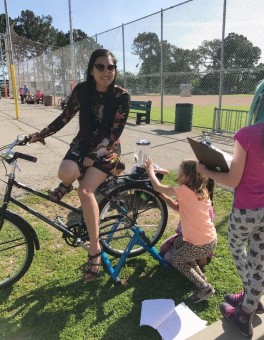 The community I am happy to call home gives so much to me, it is a
priority that I do whatever I can to return the favor and give back
to the place that has raised me, that has shaped me to be the young
woman I am today. Since I've come to understand this on a local
level, I take pride in soaking up the California sun and do what I
can to make my country a better place. However, as I give back to my
community, I like to connect the local efforts to the even bigger
picture, which is helping the planet that has given me a home in the
first place.
Apart of the teen volunteer program Alameda Youth Committee (AYC) under the
Alameda Recreation and Parks Department (ARPD), I've had an
abundance of service opportunities that specialized in organizing
popular local events. I officially became a member of AYC my junior
year with two mandatory meetings and three volunteer opportunities
per month. All of the events we participated in were based on the
ARPD schedule, but during my senior year I realized that I had the
chance to create more events if I put forth the effort and found
people just as zealous to volunteer as I was.
I discussed with my supervisor the possibility of something for Earth
Day, especially since I plan to continue my academic journey as an
Environmental Policy major at UC Davis. After hours of planning and
researching, I finally sculpted the plan for Alameda Sprouts,
a team of young tree-huggers branching out to teach the youth about
sustainability. The entire week leading up to Earth Day, my committee
and I visited several parks where we hosted environmental activities
to kids in elementary school apart of an afterschool program. As the
lead of Sprouts, it was incredibly difficult to teach my plan
to the rest of my committee, all of which never took an AP
Environmental Science course. However, I managed to teach the basics
to a point where my team generally mastered what they had to teach
the kids. At the end of the day of activities, I had everyone fill
out a piece of paper with a pledge to the planet of how they plan to
make the earth a cleaner and greener place. We displayed the pledges
on a giant tree poster at our annual Earth Day festival where
residents were absolutely astonished with the youth's contribution
to making our local community more sustainable.
I learned that I could not have done this project alone and working
with others is important in making change. I hope in the future that
I'm able to make people more aware with their impact on the planet
and lead them to live a more sustainable life. The way we make change
is to start with the youth, and my vision is to have the five, six,
and seven year olds I taught eventually teach others in saving this
planet.