Name: Garrett Wolf
From: Union Mills, Indiana
Grade: 10
School: South Central Community Schools
Votes: 0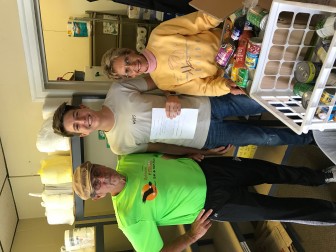 Volunteering
is an essential trait I have instilled throughout my High School
Career. You not only have the opportunity to increase your
responsibility or gain a rewarding experience but you also may
change, shape, or even save someone's life. I have been involved in
numerous volunteering experiences because I believe it's important
to help out your local community. From placing flags in veteran
cemeteries for Memorial Day, to volunteering at my local elementary,
to starting food donation programs at my school, there are countless
ways I have been involved.

One of my most successful
campaigns was my food donation program I started at my high school.
The program allows students to donate ten non-perishable food items
in exchange for one point of extra credit to help bring up their
grade. This program was so successful I was carrying out two to three
full crates of food per week. I was responsible for delivering the
food items to our local food pantry, when I walked in it was sad to
see the barren shelves that occupied this building. I live in a small
town so I can imagine how difficult it may be to find the necessary
supplies to keep an operation like this running. The smiles of the
workers was what made this experience all worth wild.
I
have volunteered at our elementary for about two years now and I
typically spend one hour per day there. Working with children is
something I'm very passionate about and in the future these
experiences will help me with my pediatrics career goal. I am in the
classroom to help struggling children with work assignments, be a
positive role model in the children's lives, and I think most
importantly to help them have fun at school. The kids can be
challenging so patience is an attribute that I have acquired
throughout this experience, but it is so worth it to see the bond you
create with the kids.
I
have had the extreme honor of getting to place flags on soldier's
graves for Memorial Day. My grandfather and I typically spend the
entire day doing this. This experience has taught me the core values
and strengths of the United States of America. My grandfather, a
Vietnam soldier, accompanies me along with other retired soldiers.
They talk to me about life in the military and what certain war
acronyms stand for. Overall, it's a really great experience and it
teaches me life lessons and great traits.
These
experiences are just a couple of numerous volunteer services I have
done. They have instilled in me core values and traits that have
changed me for the better. The reaction of the people you have
benefitted is the most satisfying thing you gain from these
experiences. Looking forward I hope these experiences will help me
with my future career goals and passions. Volunteering is an
important trait I have tried to instill into my life and I hope to
continue doing so in the future.