Name: Hoshen Markovich
From: Los Altos, California
Grade: 11th
School: University of the Pacific
Votes: 0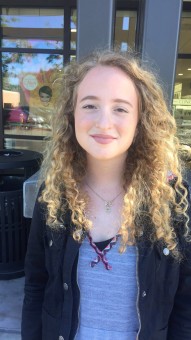 About to begin freshman year in high school, I was unsure of my purpose.
However, one concept was clear to me: volunteering. That summer I saw
a "VOLUNTEERS NEEDED" sign at the window of the American Cancer
Society Discovery Shop. I've been determined to help others since a
young age, and throughout high school have illustrated this with
numerous clubs, such as N.H.S., C.S.F., Interact, and Leadership,
where I was president; nevertheless, the Discovery Shop is where I
began my first serious, long-term volunteer, and acquired many of the
crucial life lessons I use today.
The fight against cancer has always been important to me, since many
members of my family battled cancer, and my grandfather lost his life
during the struggle. For that reason, as soon as I saw the sign, I
asked to volunteer. I was two years younger than the required age,
but my passion allowed me to join. Since then, I've volunteered
every Saturday for four years, giving ~1000 hours to the cause. This
thrift store only sells donations, and the money goes to help cancer
patients, survivors, and research; as a volunteer, I was responsible
for accepting and sorting donations, pricing, cleaning, working the
cash register, and answering questions customers had.
Over the years, I learned that this job came with many challenges. One of
the greatest challenges I faced as a volunteer was hearing cancer
stories, as many of the donations came from those who lost loved ones
to the fight. One time, a sweet old lady donated items totaling to
hundreds of dollars in worth, all belonging to her sister. The item
that stood out to me, however, was a book titledLove
Is a Special Way of Feeling,by
Joan Walsh Anglund; she and her sister used to read it every night
before bed as children, and again when her sister was in the
hospital. She read me the book, and with every word I could feel her
pain.
However, as challenging as these moments were, they were also extremely
satisfying due to the sense of purpose I felt. Every time someone
thanked me for helping, or hugged me and said I was making a
difference, I felt happiness and pride, honor to have the privilege
of working for such a cause. I learned many skills, from
communication to leadership to responsibility, but, most importantly,
I learned that any small act of kindness aids those facing difficult
times.
Although this specific organization doesn't fully align with my intended
major, Multiple Subject Education, I still consider it beneficial. To
me, "forward looking" means keeping the future in mind, and
preparing for it while setting and accomplishing goals, spreading
hope. The talents I acquired through the American Cancer Society will
enable me to teach kindness and empathy, and maybe during my four
years at the shop I helped save lives who will, in the next ten,
twenty, or even thirty years, have children who will step into my
classroom.