Name: Sara Noelle Matthews
From: Valley Grande, Alabama
Grade: 10th
School: John T. Morgan Academy
Votes: 0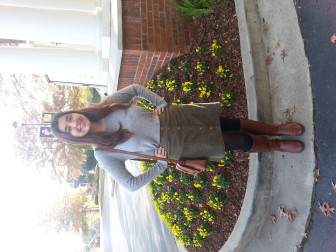 Looking before us, we tend to see the future we plan for ourselves; the
people we want to become and how we will become them are the only
thoughts that cross our mind from the time junior year starts until
the day we graduate. But do we ever think about everyone else? Who
are the people we will help when we finally achieve the long-desired
dream of our future? What is the future they see before themselves?
When I first started volunteering at my local retirement home, the only
thought that crossed my mind were the number of days I needed to come
before I had all of my required community service hours. I went after
school once a week for two hours starting the spring of my freshmen
year and knew I would easily get 75 hours before sophomore year
ended. I planned on getting the minimum and going back to the life I
once had. However, after the first couple of visits, I knew I never
wanted to leave. This place became I haven for me—somewhere I could
escape to when school became too stressful. I knew when I went there,
nothing else mattered except which resident won that day's game of
Mexican train. The tasks I did consisted of playing games with the
residents and helping the activities coordinator with different
things, but I mainly interacted with the residents. They quickly
learned my name and soon began expecting me every week. I knew my
responsibilities were simple, but the question of when I would be
back was always asked. An hour-long game of cards became the kind of
forward looking activity that allowed me to understand the importance
of my future as well as the ones around me. I learned to become more
confident in myself, and my experiences allowed me to become more
open with people I only saw weekly. The connections I formed gave me
both the greatest satisfaction while volunteering as well as the
biggest challenge. I could form close bonds with people that became
family to me while my own grandparents were many miles. But these
bonds could be broken as residents moved or passed away. I could care
for these people but also never knew what the next week would hold.

Even as my hours steadily pass seventy-five, I continue going to this
retirement home, choosing so because of the connections formed. I
hope other people realize the impact they can have on others simply
by playing a game of bingo or listening to stories. If this can
happen, the future everyone sees before themselves will also include
the future of everyone around them. We can help others better once we
know their own background and story. I know thirty years from now the
people I loved at my haven will likely be gone. However, if I can
inspire at least one young girl or boy to form connections in their
community, I feel I will have made a difference.