Name: Erin Cuevas
From: Nacogdoches, TX
Grade: erinmailbox1@gmail.com
School: erinmailbox1@gmail.com
Votes: 0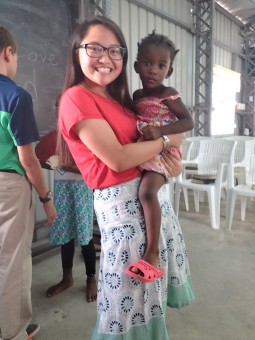 Youth
Forward Scholarship
Erin
Cuevas
The
Mission of Love and Hope
I've chosen to volunteer with those in poor and impoverished countries,
especially through mission trips because I relish in helping
children. My interest in with children began when I became a
volunteer for middle school robotics teams during my junior year in
high school. It was wonderful to have the opportunity to be more than
a science student and be a mentor to these aspiring students. Wanting
to help in impoverished countries is rooted in my childhood because
when I was in the fifth grade my parents sent me to live my
grandparents in the Philippines to learn about the culture, but I had
learned so much more. The experience really opened my eyes to the
exhausting and appalling lifestyle people in poor countries live and
from that moment forward I have always wanted to give hope to those
who have nothing. That passion was fueled when I spent my high school
freshman and sophomore years volunteering at the food bank once a
week because I could finally fully comprehend how precious food is.
My first mission was the summer after my junior year in high school to
Antigua. I volunteered by helping host a vacation bible school
program at a church in a rough neighborhood. As a teacher, I taught
the ten, eleven, and twelve-year-old girls and boys. I was
responsible for containing, engaging, and feeding a group of fifty
plus children. One of my biggest challenges during the program was
preventing fights. These fights weren't raising voices and throwing
tantrum attacks, but full on fists to faces and rocks to heads. Thus,
I was constantly playing games or conversing with my kids during
breaks or extra time and I am so fortunate that I was upbeat enough
to keep them focused on me and interested. At the end of the week the
emotions I felt for my kids were intangible and what made all the
stress and anxiety worth it was the sprinkle of hugs my kids gave me
at the end of the week and knowing that I gave them hope in finding a
place where they are loved.
From my experiences from during the mission trip, I've come to
understand that volunteering is all about spreading hope and love to
all the lives we've touched and to ourselves. I've also learned
that my ambition in life is to become a pediatric physician which is
amazing because there are plenty of medical missionary trips that I
would be ecstatic to volunteer in and children that need to be cared
for.
With these goals, I know that my work in foreign countries represents
"forward looking" because I always want to leave people with
happiness and to go forward with their aspirations. Personally,
"forward looking" doesn't always mean a meticulous plan, but
just the thought of a brighter future and never giving up. If I were
to look back to my volunteering activities in twenty to thirty years,
then I would state that volunteering has definitely made a difference
in my life because I have experienced so many traumatic obstacles and
without community service, I would've never learned that life can
continue.
Of course, I seek to cure the sick in the future, but I also want to
relay the message to children and others that we should practice
appreciating and loving our neighbors despite current situations or
environments because if all of us can learn to reach out to others,
then the world can truly change.