Name: Payton Hovey
From: San Diego, CA
Grade: College Junior
School: University of California-Davis
Votes: 0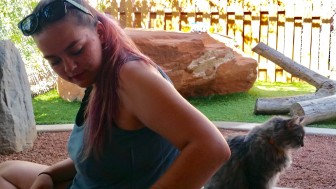 The Monastery on a Mountain
Payton Hovey
I have spent most to my life volunteering in one capacity of the other
on a variety of projects and causes. It has shaped who I am and the
course of my life entirely. Here I want to tell you about the most
recent "big" volunteer experience I have embarked on, and what
made it so impactful to my life.
Less than a year ago, I was living in Daunne, Nepal in a Buddhist monastery teaching
English and science in a secondary school. I lived in Nepal for three
of the most challenging, informative, and exhilarating months of my
life. As a volunteer, school days consisted of waking up at sunrise
for morning prayer with the monks and kids, teaching for 6-10 hours a
day, helping prepare the evening meal, and then going to bed after
the evening prayer when the sun went down over the mountains. I truly
feel that the kids and their country taught me far more than I was
able to teach them, and my experience has been invaluable.
There was a lot of challenges that I had not anticipated and honestly wasn't entirely
equipped to handle. The monastery had no electricity or running
water, so baths were the women hiking into the jungle once a week to
a cold stream. This once-a-week communal bathing was not something I
was completely comfortable with even by the end of my trip, but
taught me volumes about everyday challenges in developing countries.
However, the food was by far one of the most difficult things I had
to adjust to. I found out that I was allergic to the wild mushrooms
that were served everyday, and so my daily food intake was limited
mostly to rice, crackers, potatoes, and water. I realized how
privileged I was to eat such a variable diet at home.
I was more prepared for the language barrier, however that didn't make it any less
frustrating or awkward. One of the "craziest" experiences I had
was being stopped by a group of old women while I was walking to the
market on my day off, and having them pray and bow at my feet. I had
no idea what they were saying or how to respond. I smiled, thanked
them and bowed, then continued on my day with no idea of what had
just happened.
Though there were everyday aspects of life that were immensely difficult, watching my
students grow and progress made it all worth it a hundred times over.
Seeing the kids going from learning basic vocabulary to conjugation
within a few months was incredible, and knowing that I was who was
responsible was amazing. They asked me questions about my daily life
in America and seemed fascinated by what to me seemed incredibly
mundane (you can drive!). I learned a lot, not just about myself and
how I can grow as a person, but about the world, and how lucky I was
to grow up with access to things I take for granted. I was invited to
stay permanently and teach, and although I had to decline their
invitation to finish my education, I fully plan on one day returning
to the monastery on top of a mountain.