Name: Adrianna Rosario
From: Hoschton, Georgia
Grade: 10
School: Mill Creek High School
Votes: 0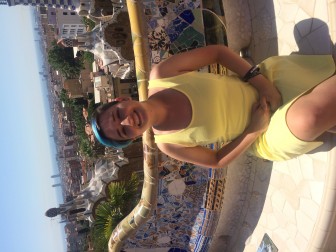 In sixth grade, I had a teacher tell me I was a 'star.' That year I was treated
with so much care and respect by her, I realized the real impact
teachers have on their students, and from then on I could not imagine
pursuing any other career than one in education.
I've had similar experiences throughout middle and high school, where I have
been awestruck by the amount of work, skill, and love educators put
into their job. That's why I knew I had to do my small part to give
back to them. Since freshman year, I have provided classroom
assistance to my middle school Spanish teacher. I was very incorrect
to assume the work would start and stop at grading papers.
Two hours a day, two or three days a week, you can find me doing a multitude of things
in the classroom. The work did start at grading papers, but I
could have never imagined the expanse of other jobs necessary to keep
the classroom running. I found myself scanning papers, comparing the
content from two different textbooks, creating online quizzes, and
(my favorite) assisting students with their work. Dr. Parra never had
a lack of things for me to do, and although he never forgets to
express his gratitude for my help, I cannot repay him for the skills
he has taught me over the years.
Because of the nature of both the tasks given and of Dr. Parra himself, I learned
how to accomplish things efficiently and to a professional degree. I
got to a point where I knew what he wanted before he told me, and I
did not appreciate this skill until it became critical in other
environments.
I've managed to integrate similar work into my actual school day as well. During
lunch this past school year, I spent my time in yet another Spanish
classroom again completing whatever task my teacher handed to me. I
quickly realized that the work ethic I gained from the years with Dr.
Parra was helping understand exactly what a person needed from me. I
could grade more accurately, and make other tasks were done neatly,
and my teacher was very appreciative of that. Yet again I found
myself amazed at the amount of various responsibilities my teachers
had to handle in their daily lives. I cannot imagine that my work put
more than a dent in their to-do lists, but I am happy to do my part
if it makes anyone else's life easier in the slightest. I am also
grateful for the skills my work and mentors have given me, and the
fact that it has not scared me away from the profession. Instead I am
will enter it with a better understanding and appreciation of what
I'm up against.