Name: Timothy Thomas
From: Sarasota, FL
Grade: College Junior
School: University of South Florida Sarasota-Manatee
Votes: 0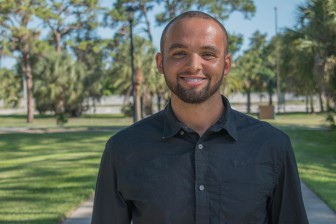 Tim
Thomas
Youth
forward scholarship 2017
07/28/17

University of South Florida
Sarasota-Manatee
The
orange ball that gave me a purpose.
Eight kids, one ball, limited space, equals a recipe for disaster for
ordinary people.  Luckily, I thrive in this environment.
Coaching basketball is not a job for everyone but it is one of the
most rewarding jobs imaginable.  Generally, I coach basketball
to the youth year round on a volunteer basis at the YMCA.
During the course of one basketball season, I can rack up to thirty
hours of volunteer time.  These hours come from a mixture of
practices and games.  A great coach should have these qualities:
patience, wisdom, integrity, and quick decision-making skills.
During practices and my games I do use those qualities frequently but
I also have other responsibilities that are demanded when coaching.
For practice, it is my responsibility to come to practice on time,
have a structured practice set up advanced, and also to make sure
that the kids are getting some value out of the practice.  For
the games, my responsibilities change ever so slightly.  Instead
of managing how the kids are performing at practice, during the game
I become more reactive to how the kids play.  This does not mean
that I scream and yell at the kids but instead I try to remain
impartial with my emotions during and after the game.  At the
end of the day, win or lose, it is still just a game. 

My coaching philosophy is simple, I let the kids play the game and I coach them along the way.
One of my biggest challenges when I first started coaching was that I
took youth basketball way too seriously.  There is a level of
seriousness needed when someone is coaching any sport but, a coach
does not have to become so obsessed with winning that they forget the
real reason why they volunteered to coach.  The reason I
volunteer to coach is that I love the game of basketball and I want
to help other people discover the love of the game.  Once I
realized that this game is more than winning, it forced me to become
a better person and a coach.  There is nothing better to me when
at the end of the season, I am able to see major improvements and
enjoyment of basketball from the players I coach.

Coaching/volunteering has been a major help with molding my decision to become a recreational
coordinator at a university one day.  I hope that in the future
coaches of all sports recognize the importance of developing and
shaping players as opposed to winning by all means necessary. It is
more important for me to think that I have made some sort of impact
with every player I coach.  I know for a fact that with my
coaching philosophy, the orange ball can also give others a purpose
too.