Name: Kelly Ann Reid
From: Chesapeake, Virginia
Grade: 9
School: Western Branch High School
Votes: 0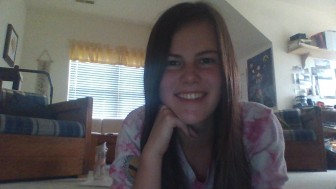 Ever since I was admitted into the National Honor Society, volunteering
has been a big part of my life. I am currently volunteering at a
retirement home where I call Bingo, coordinate crafts, set up
presentations, deliver mail to the residents, and more. I chose to
volunteer with geriatrics because I love hearing the countless
stories they share and I respect the immense wisdom they hold. All
of the elderly people I have encountered have so much wisdom, and I
love being the person whom they share their personal experiences
with. I also volunteer at the local food bank, loading and
quality-checking canned food donated by the local community. I love
helping the less fortunate because they are so appreciative of what
the volunteers do for them and it makes me feel good for helping them
have a better life. I am currently averaging about twenty hours per
month of volunteer work. My biggest challenge as a volunteer is
ensuring that the jobs I do are completed efficiently. At the food
bank, the volunteers have to work at a fast pace to get the food out
the door and to the customers, with no flaws in the work completed.
However, this has taught me how to be efficient and productive, and
is preparing me for future jobs I will hold. My career goal of being
a physical therapist is in alignment with working with the elderly
because when I become a physical therapist, I want to work with
geriatric patients. Obtaining social skills with the elderly due to
this volunteer job is helping me become someone who wants to help
those in need of physical assistance. My volunteer activities are
"forward looking" because what I do gives people hope and
happiness. The needy obtain hope due to me getting food to them as
quickly as possible, thus giving them more chance of life. The
elderly gain happiness because they enjoy talking to me and sharing
their elderly wisdom to a young person who has more than half a
century in front of her. "Forward looking" to me is living in
the present, but having hope for a future. Having hope that the
future will be a mysterious blessing that no one knows about until
they experience it.
Forward looking is the most important aspect of life, and without it, there
is nothing to truly live for. I hope that my volunteer activities
change the world by giving citizens this sense of forward looking,
because I truly do care about others' well-being, and I want others
to succeed. If I were to come back decades from now, my volunteer
activities will definitely have made a difference because I would
inspire others to follow my lead. My children will volunteer, and I
will inspire others in the National Honor Society to volunteer and
make a difference in the world. People will remember that I
volunteered a lot for local institutions, not because I am forced to,
but because I want to.