Name: Tiernan Ramer
From: Plantation, Fl
Grade: 11
School: South Plantation High School
Votes: 119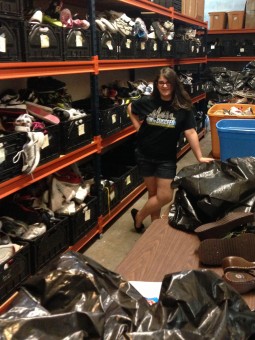 As an incoming high-school senior, I have noticed an increase in
volunteerism among my peers. Although I believe this has to do with
their college applications, I am happy to think that they may fall in
love with helping others as I have.
It all started in 7th grade after I overheard a group of girls saying
they had a "shoe problem", as in they couldn't stop buying
them. Whereas I knew that a true "shoe problem" was not having
any shoes to wear. That week I scheduled a visit to a local nonprofit
shoe charity. It was there I learned that shoes show the first sign
of poverty. That is when I started Tiernan's Soles Shoe Drive and
within a month reached my first goal of collecting 100 pairs.
Within these first 100 pairs was a pair of girls boots with rainbow
laces. As was my responsibility, I brought the collected shoes to my
local charity where I was able to clean, sanitize and refurbish them
to a like new condition. On my 13th birthday, I was invited to attend
a back-to-school event as a personal shoe shopper for kids in need.
After helping many families, I was assigned to an eight-year-old girl
who fell in love with the rainbow-laced boots. To see the shoes that
I collected make someone so happy was the most satisfying feeling!
After that, my appetite for helping others became insatiable.
By the time I started high school, I had collected over 1,000 pairs and
was awarded the Mattel Top 5 Young Philanthropists Award. As a
result, my local charity received a donation of $1,000 in my name. I
have since placed donation receptacles in salons, doctor's offices,
daycares and gyms. With all of this new support, it takes me a
minimum of 10 hours per week to collect donations. This is my biggest
challenge because of the schoolwork I balance on top of that. I have
worked alongside local sports clubs, retirement communities, police
stations and schools. Through volunteering I have learned that there
are as many people willing to help as there are people needing help,
the key is connecting them. With the entire community by my side, I
have collected over 5,400 pairs.
`Whether it is law, social work, or education, I hope to find a
career that will support my hunger to help the underserved. To me,
"forward looking" means that the impact I have made will continue
to make a difference long after I've finished. Donating shoes might
sound simple, but there is so much more that goes with it. Shoes are
the key to walking with confidence; they also have the power to
unlock opportunities some kids may never have such as playing sports,
successful job interviews, or even going to prom. In summation, I can
confidently say that my volunteer work has not only made a difference
today, but will also change tomorrow and every day following.