Name: Amy Wegner
From: Dickinson, North Dakota
Grade: Senior
School: Dickinson High School
Votes: 0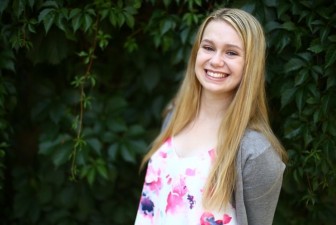 TIME IS A TREASURE
Over the past year I have been
mentoring a 5th
grader in my community through a program that pairs youth with
positive adult role models. The biggest challenge I have encountered
as a mentor has been watching my mentee struggle with making good
choices as she matures. Growth can be burdensome, and it is most
certainly a challenge to help my mentee as she begins her journey to
grow into a strong, independent woman. Although I only see her once a
week for about an hour, it is by far the most meaningful part of my
week. To have the privilege of being tasked with guiding and teaching
her is an honor. What we do together depends on what she needs most,
whether that is a hug, help with homework, or just being silly at
recess. There is not one individual aspect of being a mentor that is
most satisfying. It is every moment she smiles or shares her passions
or teaches me something new. Every moment spent with her is a
treasure. Through my experience as a mentor I have learned to work
through issues in a communicative and constructive manner, making
sure all sides are heard. This is essential in looking toward the
future, as communication is necessary for building relationships now
and in the future.
My time spent mentoring may
not directly apply to my future plans, which includes a career as an
activities director in a nursing home, but the skills I have learned
will be valuable today and in the future. Forward looking constitutes
changing our actions today and making a difference right here, right
now. By being a mentor and focusing on doing the best I can for her
right now, I'm investing in her future. Forward thinking is making
changes today for a better tomorrow. It's a habit, even a
lifestyle, to think progressively in order to constantly create
productive change in society. It all starts with the individual. By
mentoring a child I'm hoping to give her all of the guidance
possible so she might have the tools she needs for success. With
those tools she will be able to think independently and help others
too. By mentoring a child I strive to create a positive chain
reaction. Not only will my mentoring this child create positive
change in the future, but it will create positive change today. Today
we build the foundational blocks of the future. I might not be able
to change the whole world at once, but I want nothing more than to
change her world, so that she might be able to help others also.
Forward looking is working today for a better tomorrow by
prioritizing what is most important.