Name: Terra R Swinderman
From: Orlando, Florida
Grade: tswinderman15@students.ndc.edu
School: tswinderman15@students.ndc.edu
Votes: 53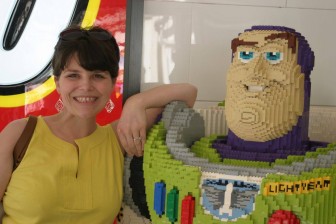 Terra
R Swinderman
Volunteer
Where You Are At
June
2017
We have had a heart for kids for a very long time, to reach them, and
help them to realize their dreams and make them a reality. That is
the main reason I decided to go back to school in my thirties, that
by accessing my own dreams I will be aiding children in theirs. Most
recently, our family made an 1,100 mile move from Ohio to Central
Florida. We left everything we knew in hopes of following our
dreams. In Ohio, our family took part in community efforts of
serving through organizations like "Feed My Starving Child," and
collecting needs for the homeless of Cleveland through the "Restored
Paths Ministry." Being in Orlando, our eyes have been opened to so
many needs around us, and we soon realized that we not only were here
to fulfill our own dreams, but to serve the community around us.
Everyday we drive down the street and see women and men holding up signs,
humbly, because they are hungry. My husband and I have taught our
children to never judge and have compassion by always giving whatever
we can, even if it does not seem like much to us. As important as
this is, my main focus is helping the kids in our apartment complex.
When we first moved in, we were struck by a stark difference in
culture from what we knew in Ohio. Immediately, though I began to
see a need that these children desperately had, even if they did not
realize it (yet). Since illness has dictated my inability to work
outside the home, I have made it my goal (and job), as well as what I
believe God has me here for, to get to know each kid, by name, to
help them realize who they might be. Everyday I sit out in our
courtyard, or by the pool, and I listen to them. I have earned trust
with most of them, and try to impart encouragement and wisdom as best
as I can: to follow their dreams and to focus on what they love and
desire, to just be kids, to not use their fists as a means for
communication, but rather, their voices, and most importantly
(especially the young girls) to love themselves. I feed them
whenever I can, which I know immediately builds rapport.
I stand amazed at how just a little bit of paying attention to them has
gone a long way. The labor of love that I sacrifice each day, I hope
to gain no benefit for myself, except the blessing of seeing these
kids fulfill their own dreams, to escape futures that their
environment may otherwise have predicted for them. Everyone has been
ordained with God-given dreams that are not necessarily able to
pursue individually. "It takes a village" to help each other
realize goals and dreams, and that is what I am aiming to do, one
child at at a time.