Name: Korie Gross
From: North Jackson, OH - Ohio
Grade: Senior
School: Jackson Milton High school
Votes: 0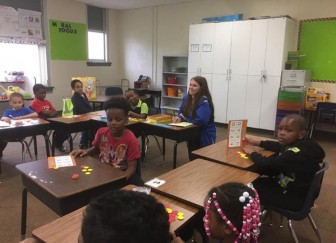 Korie
Gross
National
Drive and Traffic School
July
7, 2017
Volunteering
at Stambaugh Academy
I have chosen to volunteer with Stambaugh Academy and be there once a
week throughout my school year. At Stambaugh, I worked with the
kindergarten and first grade. When I work with the kindergarten class
I help them work with their numbers and counting through worksheets
and one on one time in class. This helps the children learn their
numbers with the worksheets and have me to help when needed. In this
certain class, there is a male child who had a speaking impediment,
mental issues, and physical issues. I worked separately with this
child one on one for his worksheets with numbers and counting. The
worksheets would be different boxes with dots in them. The children
would have to count the number of dots in the box and find the
matching number. The matching number would be glued next to the box
with dots in it. If the children had gotten the whole worksheet
correct, they would get a piece of candy. The most difficult part
would be having to calm children down if they were to get one wrong.
Along with if the children decide not to listen it became harder to
handle. I would be able to calm down the kids with heads down and
behaving for a treat. When I work with the first graders we play
addition and subtraction bingo to help them more with their math
skills. I would write down the problem on my paper and read it out
loud to the first graders. The children would have to do the mental
addition or subtraction to find the number. Then the children would
have to see if the number is on their card and cover it with a piece
of paper. Whoever had gotten bingo and had the write numbers would
have won a prize. The kids at Stambaugh Academy have helped me grow
into learning more and more about the future career I am going to
have. During this activity, I would love spending time with the kids
and I still do. I love being able to help children learn and grow
throughout their education process. Throughout my time at this
Academy, I was able to help children with their numbers, counting,
addition, and subtraction. This is an important activity because I am
able to start some of my future education careers at a young age with
experience of children. My favorite part of being able to help the
children is seeing them grow in this and understand what they did.
Throughout the time at Stambaugh, I learned how to make learning more
fun for children. As well as I learned how to handle a child who is
not listening. While my volunteering at Stambaugh Academy was a grand
experience, I enjoyed helping teach the kids the needs for the
future. I also started to understand while volunteering at Stambaugh
Academy that I would love to be a teacher. I have this desire to help
children learn and grow and volunteering at Stambaugh helped me
decide my future goals.