Name: Natalya Nodolski
From: pottstown, PA
Grade: College Sophomore
School: Delaware Valley University and Gwynedd Mercy University
Votes: 2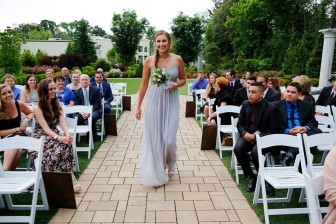 Volunteering
for Change
Natalya
Nodolski
I first volunteered at the Perkiomenville SPCA when I was in high
school. I chose to volunteer here because of my love for animals. I
worked for about 6 hours per week and did this for about a year. My
favorite task was to take all of the dogs on a daily walk, but the
rest of the duties was not all fun and games. I had to clean
kennels, give the dogs food and water, clean the cages of small
animals and cats, stock items, and mop halls. My biggest challenge
here was dealing with unfriendly dogs, but I believe these same dogs
have given me the most satisfaction. If I was able to get an
unfriendly dog safely and swiftly out of the cage to go on a walk, I
felt that I helped an animal that was most in need. Most of the
time, the upset dogs are the ones who went through the most trauma
and harsh abandonment, so I am fulfilled if I am able to get them out
on a walk. Here, I have learned the importance of caring for
mistreated or abandoned animals and that the community is very
generous and supporting of these types of organizations. We received
many donations and applications for pets and it is pleasing to see
that these animals have people that care about them.

            I also volunteered at Red Creek Wildlife Rehabilitation Center as part
of my undergraduate study of wildlife conservation and management at
Delaware Valley University. I chose this organization to volunteer
for because it related to my choice of major and I wanted to get
hands-on with animals that live in the wild rather than domesticated.
I was here from January 2016 through May 2016 and worked 8 hours a
week. My responsibilities included cleaning cages, feeding animals,
restraining animals, assisting in medical procedures, syringe feeding
baby animals, and assisting in public programs. I think my biggest
challenge was dealing with the medical procedures because it was
upsetting to see animals in so much pain from the accidents many of
them went through. The medical side of things also gave me the most
satisfaction because it was great knowing you helped heal a certain
animal of their injury or illness. I have learned about the biology
about many of the wildlife in Pennsylvania as well as different types
of diseases, pathology, and medical procedures, and that it is okay
that some animals do not survive. This relates to conservation
because if every animal was saved, there would be a rise in
population which would affect nature's balance.
The activities that I took part in at the organizations I volunteered at
were definitely forward looking. I believe forward looking relates
to someone's career goals or future plans. The SPCA gave me
first-hand experience with dealing with animals and the wildlife
rehab center provided me with experiences that I can use to find a
future job in the wildlife and conservation field. I am now pursuing
a teacher's certification in biology so my volunteer experiences
and knowledge can be used to provide children with first hand stories
and examples of the subject, while giving them a fun learning
experience. I wish to make learning fun for everyone and I want to
spread my knowledge and give the youth community an enjoyable
experience. If I were to go back to these organizations in 10 years,
I believe my prior activities there have made a difference because I
could see that there are not any of the same animals, so I know that
I did the best I could to care for them and either release them back
into the wild at the rehab center, or provide them with a happy and
loving home.