Name: KaNaria Davis
From: Houston, Texas
Grade: 11th Grade
School: Texas Southern University
Votes: 82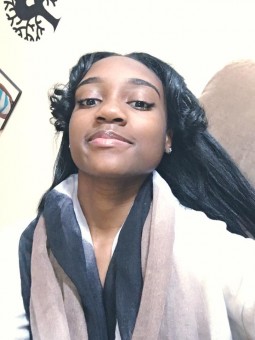 VOLUNTEERING
WITH THE YOUTH TO SEE THEIR SMILES
I have volunteered at several places Applewood of the Charles Stewart
Mott home/foundation in Flint, MI. being one to where I excitedly
greeted individuals as they entered and toured the well known Charles
Stewart Mott's mansion and as well as his beautiful grounds.
However the place and/or thing that I loved to volunteer the most
with was when I worked with the children.
Working with children brings me so much joy to where I myself was a teen
model and role model for a modeling and etiquette school during then
I helped young individuals bring their special beauty out and also
let them realize how beautiful they were and how everyone has a
beautiful uniqueness about themselves. I also volunteered for a
birthday party agency to where I was several characters at birthday
parties Elmo, Minnie Mouse, and even a Ninja turtle to name a few to
see the smiles on their faces really brightened my day. And because
of the fact of I really loved working at the birthday parties I began
working at one of the most awesome places in the world for children
yes you guessed at Chuckie Cheeses, even though I was paid for most
of my hours I did offer a great deal of volunteer hours to help make
the young individual parties just so awesome because I remember how
happy I would be visiting there as a child and what made me so happy
and yes there I also was Chuckie himself from time to time.
I also volunteered at the local hospital on the pediatric floor as a
Nurse's Assistant and there is where I found my passion and decide
to become a Pediatric Nurse to which in the future I would love to
continue my studies and become an actual Pediatrician. I'm
currently enrolled at Texas Southern University to where I will begin
my studies to become that Pediatric Nurse / Pediatrician that I truly
want to be.
All together I believe that I have volunteered at least 100 or more hours
and through my volunteering I noticed that I gave happiness and
smiles and that's exactly what everyone needs today to make their
day go smoothly.
Finally I would say that again working with children and as well as helping
them inspired me to which made me even more excited to become a
Pediatric Nurse / Pediatrician to help children.
KaNaria T. Davis