Name: Nazaya Gilliam
From: Bowie , Maryland
Grade: Freshman College Fall 2017
School: Bowie State University
Votes: 0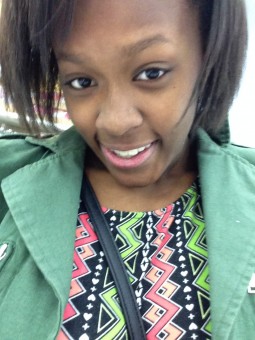 I volunteered at
the Salvation Army last year around Thanksgiving time. I had the
opportunity of helping other pass out food to the community. We
passed out food for an entire week for about 4 hours a day. I had the
opportunity of meeting and communicating with a lot of individuals
that new me and family. This volunteer event was a great opportunity
to help others feed their families for the holiday. We passed out can
goods, juice, water, boxed food items and turkeys. I felt that I
helped lift a heavy burden for individuals that didn't know how
they were going to feed their families for the holidays. It feels
amazing when you are able to put smiles on faces and see the excited
of feeding your family means to you. I am extremely proud of myself
for doing this and would love to do it again when I come back home
from school during the holidays. However, this has allowed me to see
that giving back to the community is a great benefit. It is great
when you advertise things in the community that would help others
people when others are not aware of what it being shared in the
community you could miss out helping others that really need the
help. Also, so many people are afraid to get to get because of the
people that are involved in the organizations. Therefore I have
learned that building a trusting and profound relationship with
others allows for people to trust and depend that you will be there
for them. I don't want anyone to be afraid to get help but I know
that there are individuals that are mean to others are make
predictions that some people just don't need the help, but you
never know what situations may have come into someone life that at
that particular time you just may need a helping hand. It is very
important that when you can volunteer to lead a helping hand you
should because you just don't know when you're going to need for
someone to show you the same kind of love, acceptance, trust and most
of all kindness.

Through this experience I came across a favorite quote from Bruce
Lee, "Always be yourself, express yourself and have faith in
yourself". This quote goes a long way for others that need to
believe more in who they really are as individuals. We also need to
be aware of that we are capable of doing the impossible if we just
believe, work hard and also consider other people needs and not just
our own. I have always been the kind of person that enjoys being who
I am. I don't like doing the same things as others and I don't
want the same thing that someone else has. I take pride in knowing
that God created me to have my own mind and express who I am freely,
knowing that someday I would change and make a difference in someone
life.