Name: Jake Wandro
From: Riverside, CA
Grade: Junior
School: UC Davis
Votes: 0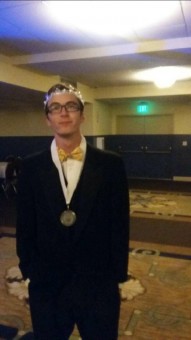 I take every opportunity I can to positively affect others. Most of
what I do is with my church. Every Wednesday I co-teach religion class for 3rd
graders at my local parish. I plan and teach classes to deepen their
knowledge in Catholicism. In addition to this, the highlight of my
past six summers has been the week that I spend helping at vacation
bible school. I am in charge of a group of kids and am responsible
for making sure they have fun. They love it every year and it helps
them grow in their faith and as people. Also, ever since I was ten I
have been an Altar Server. I go to seven o'clock mass multiple
times a month since no one else wants to get up that early to help
out. I excel at it enough that out of over 200 Altar Servers I got
the Altar Server of the year award last year. I have become so
reliable that they even have me serve for the bishop whenever he is
in town. I also train incoming altar servers because if I can teach
others to help then it has an even greater effect. This is just a
glimpse of the numerous things I do at my church like the Passion
Play, helping with movie nights, ushering, doing street clean ups,
and anything else that can be helpful.
I have also improved life for my fellow peers at school who are also
stressed out in the IB program. I realized how stressed people are so
I created Ping Pong club. At the start just me and my friends went to
play some Ping Pong and get our minds off of the massive amount of
homework we constantly have but it only took a few weeks for there to
then be over thirty students in there playing ping pong, hanging out,
having fun, and enjoying this safe haven from the stresses of life.