Name: Terrell Thompaon
From: Prairie View, Tx
Grade: Freshman
School: Prairie View A&M
Votes: 0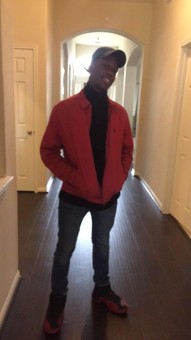 Terrell Thompson
7/20/2017
Youth forward
scholarship
Volunteerism
& I
I'd like to start by saying that there is no volunteering without "u" and "I". In saying
that I believe that volunteering holds a special place in humanity as
it allows people to come together for the greater good. Should it be
tackling homelessness, restoring the earth, or reaching out to our
youth volunteer work is a staple in a functional society.
In my recent years I have made it a point to keep myself invested in my community and other parts of
Houston. In the past few years (2015-2017) I have made it my mission
to volunteer or do some good deed at least 5 hours per month or one
hour per week. Some of my activities included decorating doors for
the elderly at a nursing facility, joining a recue to save a bird,
helping to feed those in need, in addition to other smaller but not
less in impact events.
I'd say the biggest challenge I've faced in my work as a volunteer is definitely the
thought of what happens after. I in my everyday life have always been
the person to think ahead and I always ask myself what happens to the
hungry after they are served this meal or run out of the small amount
of can food they may receive? What happens to the pigeons, ducks,
dogs, and lizards after they are saved; are they really taken to
where they will live a fair life? As for the elderly are the
caretakers actually taking their job seriously? These questions are
what fuel my passion to volunteer to aid those when they don't
believe anyone cares. In a way, however selfish, it is therapy.
The perks of helping others as noted previously is how it helps my conscious I think seeing people
get one moment of not worrying and actually being able to enjoy the
moment they are in validates what I'm doing as a person. Seeing the
joy on a child's face learning about careers and seeing a future
other than sports brings me joy. I knowing that I'm building a
better world for my children feels great.
My greatest takeaway from giving my time to better causes is that selflessness and patience are
great virtues in life. Many time volunteering my run over the time
that was planned or maybe things may not be going your way ,but its
important to keep your wits about you and stay focused. Sometimes you
cant put value on giving your time up."
I hope this gives you a good insight into my mindset and I hope you choose to award me with the
scholarship.