Name: Leeandra Garcia
From: Hartford, CT
Grade: College Freshman
School: Capital Community College
Votes: 0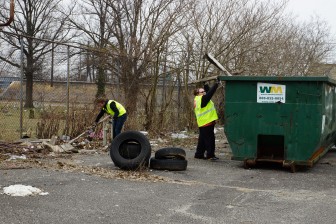 Leeandra
García
413-330-4367
The Salvation Army is an organization where it depends on volunteers to
help its organization succeed. I started to volunteer with The
Salvation Army when I was 14 years old. I became a member of The
Salvation Army when I was 7 years old and they instilled volunteerism
in me at a young age. I also volunteered at school and as a dance
teacher. Volunteering not only should make you feel good it should be
part of everyone's morals. In order to receive you should give.
It all started with a soup kitchen, where homeless people would come in
and receive cooked food. The youth would serve juice or serve plates
as an act of volunteerism. We had children as young as 8 help. The
children didn't see this as a chore or something they had to do.
They saw it as volunteering for the greater good, doing something to
help the community and doing something that will serve as right. The
children loved volunteering they believed they should do it every
day.
In elementary school I would go to a first grade classroom and help
instead of go to recess. I enjoyed helping the teachers. I enjoyed
helping kids younger than me. Something in me would get joy from just
helping others. Pretty much every day I would skip recess and go to
another classroom to help. I would be made fun of by other kids
because I seemed like a nerd, but I still would go to other
classrooms and help because it would make me happy.
At the age of 14 I started teaching a dance class for children who could
not afford dance classes in an urban city. These children were so
grateful. I taught these children so well; they were able to compete
with other children from other states. The children have gone to
places they've never seen before.
In 2012 I graduated from High School and went straight to a Salvation
Army Volunteerism Program called Servant corps. Servant corps members
were not paid for their work as they spent a year of their time in
Camden New Jersey. In Servant corps the motto was to meet human
needs without discrimination. Whatever anyone needed we did. We built
a ramp for someone, we planted trees, we brought people to and from
places we allowed people to stay in our home when needed. I enjoyed
doing this. It helped me understand what I want to do with my life
after high school.
As a volunteer at the moment I spend about 5 hours a day volunteering
along with working. The biggest challenge for me is when the kids
don't show up or when they don't listen but besides that I don't
really have any challenges. I have learned to give more of myself and
this world is not all about me. There are other people in this world
and they need help too. I honestly believe volunteering is what got
me where I am today. I am the person who I am because of
volunteering.