Name: V. Grace Morrison
From: Chattanooga, Tennessee
Grade: 11th
School: Chattanooga Christian School
Votes: 0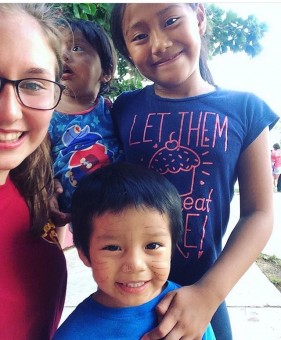 We, as humans, are made for servanthood. Not only were we made for God,
to glorify and enjoy him forever, but we were made in the image of
the one perfect Servant, The one who sacrificed his position in
heaven and his fellowship with the Father in order to become the
lowliest of servants and to completely give himself up for his
beloved, while we were yet enemies. Serving is a part of who we are
as creations made in the image of a Servant. Even if one does not
pronounce that Christianity is their belief system, anyone, once the
binding of laziness is broken, can find that not only does it make
the people one serves happy and blessed, but it also blesses the one
serving. It is productive and works towards the greater good of the
community, changing one circle at a time for the better.
We all seek happiness and one of the greatest way to find happiness is by giving
it through serving. We all seek acceptance and friendship;there is
something about working hard together that quickly bonds people, so
what better way to make lots of new friends, than serving others with
others.
I go to Mexico every year on a missions trip. It takes about $1,000
of my money (and support from others) to go there. I could save my
money and have enough to buy a car, but it's worth it to me. I love
the kids, the culture, and everything about Mexico, but I love
working hard, in the sweltering Mexico heat, not because it is
particularly fun, but because it is so helpful and it blesses them
beyond measure when we help. It is amazing blessing these people,
making new friends, and seeing the glory of God work in and through
the orphanage in Mexico. It is exhausting, but it's also some of the
most joy I've ever felt.
I'm in NHS at my school, leadership positions in my choir and in my
youth group, and more. If I were to change one thing about the world,
it would be that people would be more selfless and have more respect
for people. Since we can't just get rid of these things, serving is
one way at you can learn to respect all kinds of people and have them
respect you as well. One is selfless in serving because it takes a
lot of personal time and energy, but it fights apathy and selfishness
for both parties as well. Service is a great gift to the person being
served and the servant, which makes it very unique.
I serve because my Creator serves me. Life just turns out better
when you overcome what you want to do, and just say "yes" more
often. Say "yes" when you see that lady struggling to rake her
yard. Say "yes" when your mom needs a break from the baby or from
cleaning the kitchen. Say "yes" and "no you don't have to pay
me" when the old man next door is struggling to clean the gutters.
Sacrificing a little bit of your time and energy is such a blessing
to the community, it makes you feel good and productive, and
honestly, it is fulfilling what our mandate is, to love our neighbors
as ourself, and who wouldn't want to make this earth a better, more
loving place to live?