Name: Devany Morales
From: Dallas, TX
Grade: 11
School: Baylor University
Votes: 4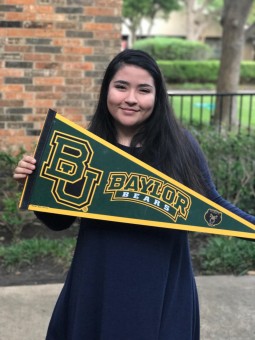 I have always done a little
community service here and there, but it wasn't until high school
that volunteering became my favorite thing to do. As a student
leader, I helped in organizing community service events and
encouraging my fellow peers to join and support. Throughout this
experience, I learned that the greater person is the one who serves.
Community service is not very easy, which is why it is uncommon to
see community service on action on a daily basis. If everybody was up
to the challenge of volunteering, the world would be a much better
and happier place. Like many things in life, community service comes
with both challenges and benefits, but, when placed in a beam
balance, the positive side definitely outweighs the negative side.
Many might see
volunteering as a burden, but I enjoy it, because it is a two-way
benefit that brings joy to my heart.
A major challenge of
community service is not only trying to get yourself up and ready to
volunteer but also trying to get people to come support. As humans,
we are sometimes very lazy and stubborn. No matter how many times one
is told about the positive outcomes of community service, one prefers
to stay at home and rest or go out and do something fun. As the
director of community service this year in the Hillcrest Interact
Club, it was extremely hard to convince people to volunteer. Not
everybody wanted to give up their weekends to help out the community.
I even found my own self getting lazy about it and preferring to stay
home, but deep inside me I knew it was wrong.
Volunteering for community
service events can simply be defined as helping others out. To my
surprise, I found that volunteering was not only helping others but
it was also helping me. Giving my Saturday and Sunday mornings to
organizations such as The North Texas Foodbank and the Salvation Army
made me feel great. The idea that every box I packed and every angel
I hanged was helping a family, gave me great joy. Other than
benefiting families around the globe and feeling good about it, one
also benefits because community service builds up character and
responsibility. One learns how to maintain a humble character, open
to whoever is in need.
As a conclusion, I highly
recommend everybody to try volunteering. The benefits that come from
it are for sure greater than the challenges. Nothing good ever comes
without a challenge, so if community service is challenging, it must
mean that we are going to get something good out of it. In my future,
I hope to continue this journey along with my family. At the moment,
it may only be myself contributing, but soon, this will cause a chain
reaction. I see it already happening with my cousins, and I can't
wait until I see it all throughout my community.