Name: Cassie Fischer
From: Greensboro, North Carolina
Grade: Sophmore
School: Guilford Technical Community College
Votes: 0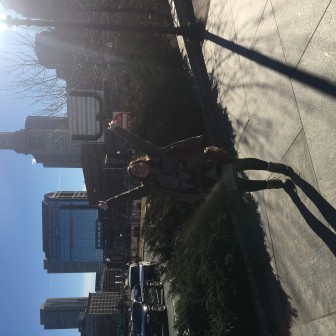 The area of volunteerism I've been involved with is homelessness.
Through my church Community Lutheran, we volunteered at Weaver House
community the first Saturday of every month for four hours. My task
as a volunteer included feeding them and giving them donated items
such as blankets, socks and shoes. My biggest challenge would have to
be the youth involvement. My church started off with a lot of youth
but as I finally got older to participate I was the only youth left
at the church. I missed out of that community youth feeling but I
still tried to pick up as many task as the Youth group used to do
such as Weaver House. I think the event that has given me the most
satisfaction is one elder in particular who we called Miss Linda.
Miss Linda was about 76 years old and regardless of her homeless
situation she always came in and told me joke while I fixed a plate
for her. I picked that event because being around her and talking
with her it honestly blessed me with a whole new attitude and
perspective. It's in situations like that where you meet an
individual that makes you rethink everything you know. That instead
of looking around and having only sympathy for the citizens at the
shelter I also get too look at them with empathy. I get to sit and
engage with them to fully understand them and that's an experience
many people can't even fathom; to fully understand another person.
I've learned growth as a woman and an individual. Forward looking
is to take what you know and what you have learned and develop it
more, progress it into something bigger and more active. I see my
activities forward looking because I plan to transfer to Lynchburg
College in the spring. Myself currently being from North Carolina
I'll be taking my experience with me, to a new school, a new state,
a whole new community. My volunteerism won't be in just one area at
one spot, I'll take it to a whole new community and branch it
wherever I go. I see myself growing with this project. This
volunteerism is what will shape me for the future, dedicating
yourself to other people besides yourself is how you grow to be
mature. When I look back on this is a few years I won't wonder if I
made a difference, I will know. As I take this with me to college I
will know it made a difference because this is what's going to
shape me for the future, being kind hearted and giving.