Name: Kyler Canley
From: Little Rock, AR
Grade: Incoming college freshman
School: U A Little Rock
Votes: 0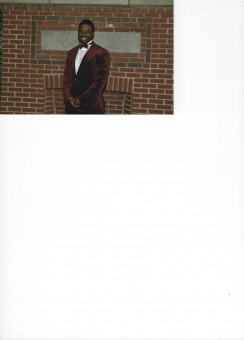 A moment that has defined my life forever is two years ago when I
helped the salvation army. I saw so many children that were not going
to get anything for Christmas. It made me feel so unappreciative, I
thought back to times when I complained over little things and all
these people were happy to have any little thing. It showed me how
truly blessed I am and taught me to be thankful for everything I have
and to worry less about material things. Many of the people I saw had
worn down clothes and were hungry but kept smiles on their faces.
That taught me that there is always a reason to smile no matter what
I am going through. Now every year I ring the bell for the salvation
army. This experience was very eye opening and I enjoy doing it every
year with my church. It inspires me to help the less fortunate when I
grow up, because I hate to see people struggle to make rent or to
have enough food to eat. Especially kids I want all children to have
the maximum opportunity to succeed in school, sports, and any and all
of their future endeavors. I hope to get a business degree and to
start up a nonprofit organization to help underprivileged families
and to help the youth. Then to build an affordable apartment complex
for struggling families or single parent homes. It will include a
babysitting service and tutoring for children. This is to help out
the single parents and I also will include a back to school backpack
drive and to help young athletes pay for cleats and sneakers for
their sports. I hope I can begin this journey by receiving this
scholarship.