Name: Brooke Leath
From: Atlanta, Georgia
Votes: 0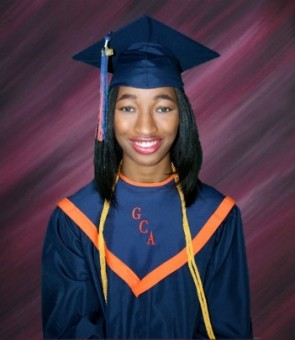 Black Cinderella: The Purpose of My Education
Draped in an ice-blue gown, she separated the crowd with each graceful step.
She was elegant. She was commanding. Astonishingly, she looked like
me. Princesses with brown skin and box braids didn't exist; black
Cinderella broke the barrier, transforming my perception of what I
can achieve as a young, African-American female. If a fictional
character can make that much of an impact on my life, how much of an
impact does my actions have on the younger generations? Actions make
waves over the sea of 7.5 billion people that inhabit the Earth.
Every act doesn't result in a tsunami of effects, but they do
created ripples that combine with others to create waves of global
erosion and deposition. This is how movements, cultures, ideologies,
religions, and social systems are produced. The past generations'
actions have shaped the future generations' mindsets; indubitably,
this impacts their actions. The state of society is based off the
actions of its inhabitants. For example, the actress, Brandy Rayana
Norwood, shook the world by portraying a black princess, an anomaly
in entertainment and media. Through this action, young girls of color
discovered they could be Cinderella or any other segregated career
choice. Whether it be playing a character in a blockbuster film or
throwing a piece of litter in the ocean, everything we do eventually
impresses and influences every community.
This is the foundation of all my actions. I study as a full-time Dual
Enrollment student to accelerate my journey toward my career as a
perinatologist. I volunteer with Teens Help Other People aka TeenHOP,
a 501c3 nonprofit that I co-founded, to make a direct impact on my
community out of true love for people's welfare. I speak all over
the country to encourage adolescents to be positive influences in
their own community. I wrote "Cookin' With Brookie", a
cook/workbook that helps those who are inexperienced in the kitchen,
to motivate youth to take the stress of cooking from their parents. I
cook dinner biweekly to express the love and appreciation that I have
for my family. I complete these "black Cinderella" acts to be a
catalyst of inspiration to the next generation. I want to be a beacon
of encouragement, because if I didn't have one growing up I
wouldn't be who I am today. However, out of all these actions, what
I do with my education has the most effect on my community. I must
pursue my education in order to be a "black Cinderella".
In the upcoming year, I will be a student of the inaugural undergraduate
class at Duke Kunshan University, a collaborative school between Duke
University and Wuhan University. After completing my undergraduate
studies with a degree in Global Health/Biology, I will attend medical
school with attend medical school with a focus on obstetrics and
perinatology. I plan to become a perinatologist and be an asset to my
community. In order to be an asset to my community, it is essential
that I pursue my education to make a significant impact. For example,
one of my career goals is to open numerous OB/GYN clinics that offer
free services to underprivileged patients. My grandmother and aunts
had the opportunities to have skilled gynecologist during their
difficult gestation periods, and I want to gift those same services
to those in need without the high price. If I want to open these
facilities, I must learn. How can I assist pregnant women in need if
I never complete my bachelors or doctorate degree? My pursuit for
this scholarship to fund my education is rooted in improving my
community.
My direct impact on the next generation is through my work with Teens
Help Other People aka TeenHOP, a 501c3 non-profit organization that
encourage youth to volunteer in their community. In September 2012, I
co-founded TeenHOP in order to make a direct impact on my community
and end the entitlement mentality in my peers and me. We encourage
youth to volunteer and provide a free place to log volunteer hours.
Our mission is to empower and aid youth (5 – 17) and adults to
volunteer in their communities, encourage members to train others,
develop leadership skills, promote healthy habits, and create
mentoring/mentee relationships, which will lead to productive and
positive citizens. We also are an official certifying organization
for the President's Volunteer Service Awards Program, which means we
offer volunteering awards from the White House. As the co- founder, I
travel around the country speaking to youth about the importance of
volunteering. I volunteer monthly at a variety of locations and
opportunities such as Books for Africa, Meals By Grace, and the
Humane Society. Today, we have over 400 members in my home state and
many more TeenHOP members all around the world. I volunteer to make a
positive change in my community. I've always wanted to see changes in
my neighborhood, and I realized that I have the ability to go out and
make that positive change that I want to see through volunteering. I
also have a true compassion for people's welfare, and I want to use
my gifts and abilities to help anyone in any way that I can. My
volunteer work is not going to stop when I'm a college student. In
the fall semester, I plan to start a TeenHOP chapter in collaboration
with Duke Kunshan University and encourage the staff and student body
to volunteer. I want to bring that mindset of giving back and
community empathy to my college campus. My community work with
TeenHOP is my pursuit to be a "black Cinderella" to youth.
I believe the biggest impact we can make on the next generation and the
community is through our actions, and I've decided to make a
positive impact on youth by being an inspiration in my future field
and volunteer work. I want to be an asset through my work in
perinatology and a "black Cinderella" through my community
service. Brandy inspired me as a child as a "black Cinderella",
and I want my future to be dedicated to inspiring others as well and
making positive changes to society through my everyday actions. By
looking at my future as an effort to be a role model, I know that I
will achieve my goals because I have a set purpose.