Name: Ieneke Jimenez
From: Mission Viejo, CA
Grade: 11
School: Trabuco Hills High School
Votes: 0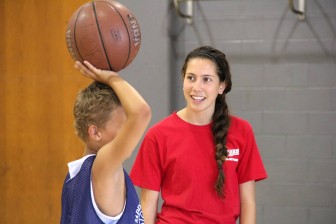 Changing Lives Through Service
Community service is something I have done for as long as I can remember. My
main area of focus has been working with special needs children. I
have two disabled older brothers and have witnessed first-hand the
effect amazing volunteers had on their lives. My first volunteer work
was with Special Olympics at age 5, and donating my hair to Locks of
Love at age 7. Although I was really young, I already knew that this
was for me. At age 8, I started volunteering for a special needs
basketball league my family started called Shooting Stars and have
volunteered almost 500 hours since. I help run Little Dippers, which
is my favorite group because they need the most help to dribble,
pass, and shoot. When they make that first basket, it is the best!
Many moms have literally had tears of joy watching their child
participate in a team sport for the first time. The biggest challenge
has been with the reluctant players. The parents are so stressed out,
so I have them sit down and relax while I help their child. I take it
slow and let them progress at his/her own pace. Many start off around
the sidelines, and then like magic, little by little they start to
get on the court. I have seen incredible transformations, and each
takes a different amount of time, patience, and love. In addition to
helping the players, I also set up the gym and train the new teen
volunteers. Many come without experience with special needs, so I
show them how fun and easy it is. I am happy to get lots of teens to
help, because I know their experience with Shooting Stars will carry
over at school with the special needs population. This lifetime of
working with special needs children has definitely helped my forward
thinking and decision to become a teacher. I look forward to having
my own classroom and integrating the special needs students just like
everyone else, so they can learn and reach their highest potential.
Looking ahead 10, 20, or 30 years, I know that my work with the
basketball players will make a difference. I have already seen Little
Dippers I started with 9 years ago, grow up to be confident and
independent. I am only 17 years old, but I have seen through my
brothers' eyes how the kindness of others enhances their life for
the better. My oldest brother passed away Christmas Eve 2015, and I
again witnessed how the kindness of others has helped our family
through this difficult time. Despite the hardship and difficult
times, thanks to the example of my family and many, many incredible
people in the world, my outlook remains positive and one of service.
I have definitely learned that community service is what makes for a
happy and fulfilled life.