Name: Yingwei (Audrey) Xu
From: San Francisco, California
Grade: 11th/Junior
School: Balboa High School
Votes: 0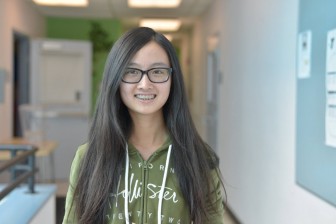 The area I chose to volunteer for is youth engagement and education. I am
a first-generation female immigrant attending an underserved school
composed of low-socioeconomic people of color. In my school, the
majority of graduating classes are attending community colleges,
instead of four-year institutions. Living in a highly gentrifying
area, many city inhabitants are forced to leave, including
enthusiastic teachers and vulnerable working families. Talking to
various students at school, I figured: not that they do not want to
attend college, but they do not know how to. For the first time, I
felt something hit my heart and I was eager to immediately volunteer
myself to twist this poor circumstance.
There are other volunteerings that I took part of, such as facilitating
indoor activities for hospitalized veterans or controlling lines for
community fairs. But none of them is as important to me as this
self-led, impactful community project–establishing a college-prep
and community engagement club for my fellow underrepresented high
school peers. On average, I devote five hours every week to prep for
bi-weekly workshops, to outreach for resources, and to coordinate
community bonding events. I am the founder and president of this
club. My biggest challenge has been fundraising to afford my club
member the transportation to college visits since there aren't a
school or community fundings dedicated to my club.
However, the fruit of this volunteering project is worthy of anything. From
reading the semester reflections of the students I served, I learned
that my volunteer efforts are actually making a difference in their
lives. They progressed through the resume, financial aid, and A-G
course requirement workshops. I am proud that I indeed am
contributing something that no one else can to my high school. I am
alleviating my fellow peers' education by simply volunteering my
time! Through this, I acquired that volunteerism is not only
essential to social mobility but is also the key to genuine
happiness.
My career interest is to be a medical researcher, which is definitely
aligned with this volunteer focus because my intent is to alleviate
the communities that are in need. With this scholarship aid, I am
further supported to attend college as the first one in my family. I
want to study genetics and disease to cure the sick people that
cannot afford medications.
My project will be forward-looking and grow roots. The educational club
I created will be passed on by the incoming classes of high school
students. There are rooms for constant improvements. This club will
host more student volunteer leaders where they will collaborate to
extend community connections so that the club's members can benefit
from more resources. Speaker series and company visits will be
implemented as the funding of this club accumulates.
Via my volunteer activities, I seek to foster sustainable academic and
character growths in our future leaders. Years later, my volunteering
achievements would become noticeable when the kids break their
poverty cycle, obtain proper education, and pursue the other social
changes they want to see.