Name: Ashley Nguyen
From: Elk Grove, CA
Votes: 0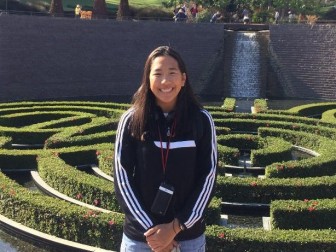 How I influence my community
Every summer, I volunteer as a Junior Coach for the Laguna Creek Gators
Swim Team. I am passionate about swimming and I love being in the
pool.After being a part of the same swim team for 8 years, I have accumulated
lots of knowledge about swimming techniques. This opportunity allows
me to interact with other swimmers and pass on my passion. I like
working with younger swimmers because I was once in their shoes. I
know exactly what confuses them, and I can explain techniques in a
way that is easily understandable. A lot of ex-swimmers who are my
age stopped swimming because it turned from an enjoyable activity
into an everyday chore. In an attempt to inspire the younger
generations, I try to make swimming fun by adding new drills and
making different relays to mix up the seemingly monotonous routine. A
lot of new swimmers begin with reservations about the sport, and my
goal is to spark a lifelong swimming spirit within them.
I volunteer 4 hours a week, for 3 months in the summer. As a volunteer,
I work with younger swimmers in the water. I teach them correct
technique because, as my coach says, "practice makes permanent".
My biggest challenge so far is getting all of the swimmers to listen
to me, because the 5 and 6 year olds have a very short attention
span. As a volunteer, I enjoy seeing the swimmers improve from not
being able to float to being able to jump into the pool and swim a
lap without stopping. I have learned how to be patient with the
swimmers and how to project my voice more, two skills that are now
essential to my everyday life.
To me, "forward looking" means reaching towards the future.
Volunteering as a junior coach represents me reaching towards my
future because I will keep swimming, no matter what. In the future, I
will be an assistant swim coach as a hobby. If I were to come back in
a few decades, I will have seen all of the swimmers that I coach grow
up into adults. Swimming builds universal skills like goal setting &
taking failure with grace. The swimmers that I coach now may grow up
into the next Elon Musk or Steve Jobs, just because they learned how
to set goals as a child.