Name: Jennifer Trinia Williams
From: Lawerenceville, GA
Grade: 11th
School: Discovery High School
Votes: 0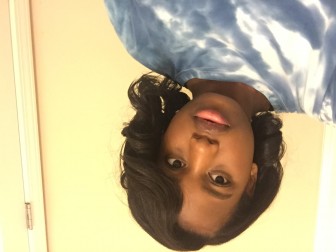 Jennifer Williams
Discovery High School
Lawrenceville, Ga

Making an Impact on The Community
Growing up I was always good in math. I always the one to come to for help in class.
Math simply just came easily to me. My second semester of my junior
year in high school I found out about a student in a community
mentoring program who was having trouble in math. His mother reached
out to me asking if I would possibly be able to tutor him. I gladly
accepted the challenge. I began working with the 8th
grader named Jehki towards the end of January. I felt it I was able
to help then I should help all I could. I worked with him every
Tuesday and Thursday for an hour for a total of 8 hours a month. We
reviewed old concepts and worked on any math homework he had. I also
taught him some other methods to do certain problems that his teacher
didn't teach him. My responsibility as his tutor was to make sure
he understood the concepts they were learning in class and make sure
I got him to a passing grade. The biggest challenge as a tutor was
making sure he understood what I was teaching him, because some
students tend to keep quiet when they don't understand and let you
move on. At the end of the year I was very satisfied with all his
improvement. He went from having a grade in the 50s to having a B.
After volunteering I learned to adapt to people's learning styles.
Not everyone is going to learn everything right away like others.
To me "forward looking" means preparing for the future. When you're "forward
looking" you're doing any and everything to better you and others
future. Tutoring someone is an example of "forward looking". It's
helping someone else's future. You're not going into the future
by yourself. If everyone around you has a positive future ahead of
them and they are bettering themselves, then you can do the same. By
volunteering I just hope that people everywhere are taking there
education seriously, and when they need help or guidance they get it.
Education can get you far in life. Taking your education seriously is
very important. If I come back in ten years I do feel like
volunteering as a tutor would have made a difference. The students
that I helped will be working and have successful life. With better
grades they will have gotten into colleges and programs they desired,
which would lead them to the success they would be having.