Name: Tyler Grant Funk
From: North Huntingdon, PA
Grade: 11
School: Norwin High School
Votes: 51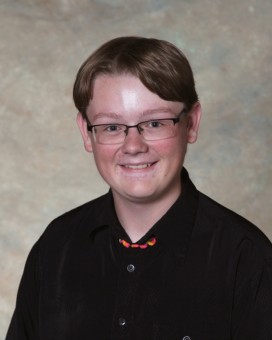 The period wherein I tended to my great grandmother's deteriorating
health, who was suffering at the hands of cancer, ignited in me the
compassion to submerge myself in transforming the society into a
better place for every individual. Witnessing the demise of my
beloved great grandmother at the age of ten was, without a doubt, a
crucial moment in my life for it engraved the path I wanted to follow
in my efforts to bring about a difference. That is when I dedicated
myself towards community service as an efficient way to serve the
ones who required assistance. During the initial years of my devotion
towards community service, I affiliated myself with the American
Cancer Society and initiated the "Purple Fighters" – a
community group to honor my great grandmother.
The Purple Fighters has evolved into a thriving community service project
which has gathered approximately $30,000 over the years for funding
the ongoing cancer research in various organizations; the Purple
Fighters is a bona fide manifestation of my passion towards community
services. Apart from tirelessly working within my school district to
collect donations for the American Cancer Society, I efficaciously
advocate, to my companions, the importance of community work as an
endeavor of extending help towards those who require it. I also
actively volunteer for the American Cancer Society Relay For Life of
Norwin every year. I have demonstrated my sincerity for cancer
patients through other opportunities as well – as my Eagle Project
for the Boy Scouts of America, I gathered donations with the intent
of making 150 "Hope bags" for cancer patients without
family or community support at the Hillman Cancer Center in
Pittsburgh. 

However, I have been able to excel in my academic career while being involved
in extensive community work. Not only have I managed to surpass a
majority of students to be considered amongst the top students in the
batch, I have unequivocally upheld my status as an honor student.
Moreover, I am fairly acknowledged for my proficiency in the music
field, particularly for my participation in the Norwin Marching Bandas
a percussionist.

For all my exertions towards creating a positive difference in the
society, I have graciously been rewarded. As an appreciation of my
vision, I was presented with the Youth Citizen of the Year for Norwin
at the age of 10 and a year later, I was able to accomplish the Kids
Kohls Care Award for outstanding community service. Additionally, I
have been awarded the Eagle rank for my services to the Boy Scouts of
America.

As a result of the activities I have participated in, I have learned to
appreciate the magnificent blessing health can be and it has
amplified my devotion towards paying back to the humanity. Certainly,
my fidelity towards community services will only develop no matter
where I stand in the future and I am positive that with the
acceptance of this scholarship, I will be able to extend my passion
on a much wider level within your esteemed institution.