Name: Jaymi McNabb
From: Palo Alto, CA
Grade: College Freshmen
School: Stanford University
Votes: 0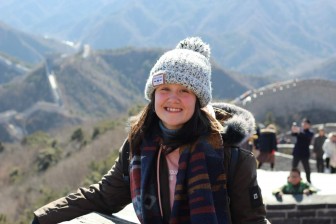 The Monster
Jaymi McNabb
My head thumped against the hard shell of the foreign bed frame,
reminding me that I no longer had a home. Normally, my stuffed dog
Spot would have protected my head. But living in a motel deprived me
of any familiarities. The death of my mother hit my family hard
emotionally and financially. Faced with one less parent and an
economy struck with ression, my family plunged into a newfound sense
of hopelessness that left us at the mercy of the unknown. We had one
phrase to guide us when turmoil faced us.
"I have news for the monster: I may have it, but it doesn't have me".
My mother gave us this motto when she was fighting cancer and I continue
to use this motto as a vital part of myself today. I embraced the
idea that despite all that is thrown at you, it does not define you.
The only thing that can ever be a true constant is my control over
how I handle the obstacles in front of me, my way of maintaining
power over "the monster". As my older brother struggled and
dropped out of high school in the same manner my father did, with my
younger brother close to the same fate, I knew that the only way for
me to step forward is by not blaming others in my life for my
circumstances or my faults. Through my mother's teachings and my
adaptation to my environment around me, I describe myself as a
determined, unwavering woman.
In a way to move forward in life, I decided to help other families who
were in the same situation as mine. I joined and became president of
Sparrow, a club in which we raised money to pay the expenses for a
different sick child each year. In 2017, we helped a child named
Holly. I had a special connection to Holly; she happened to have the
same rare cancer that my mother died of: rhabdomyosarcoma.
When I first saw Holly's smile, my mother's presence filled the room;
when Holly sang, my heart swelled with the soothing tones of my
mother's lullabies, and when Holly dipped in health, I felt the
weak voice of wavering last goodbyes once again in my throat. By
being there with Holly's family, I wasn't letting any monster
define me. I was moving forward and doing something good with my life
in the face of the same monster who wronged me. We raised $15,000 for
Holly and by the end of the year her cancer entered remission; It
felt like the world was finally acknowledging my efforts.
Even though the "monster doesn't have me," you still cannot control
outcomes. In the same way the doctor's tried their best to not let
the monster take my mother, Holly fell victim. One day the news came
that Holly's cancer came back, only stronger than before. She lived
on a deathbed made of pillows of Disney princesses and aspirations
for a future she will never have, then passed just a couple of weeks
ago surrounded by those who loved her just like my mother. When I let
this little girl into my heart, I was not eradicating monsters in my
life. What you can control is how you react to these monsters. Holly dieing does not mean I let the
monster take me. The whole reason I was a part of Holly's life was
to help her manage her monsters; to display that we are in control of
our world around us and have a community who loves and supports us.
After Holly's death, I had to learn how to encourage myself to put in the
effort and look into the reasons that inspired me and think beyond
the rewards. We are a society focused on the results of our actions and
who ignore the journey that brought us to our successes or failures.
It doesn't matter that if in 20 years the soup kitchen you volunteer
at shutdown, or if your local homeless shelter is closed. All that
matters is what happened in the moment you were there to help
someone. If someone lives improved from your efforts, no matter how
miniscule, then it mattered. This is why I describe myself as
diligent and unwavering down to my core. I don't let the obstacles in
front or behind me define how I view my world today, and at the same
time I don't allow inevitable failures waver my dedication.
Eventually the causes I sought to dedicate myself to grew larger. I founded
clubs at my school, such as a chapter of Science National Honor
Society, and entered leadership positions in other clubs like
Japanese National Honor Society as vice president and Key club as a
fundraising chair. Realizing my school was just a small part of my
community, I reached out and became a volunteer coordinator with
Meals on Wheels, and President of my library council. As I helped
those in my community I grew curiosity in the communities beyond
myself, even beyond the national level. As Americans, we often leave
much of the world untraveled. At first, I fell into the ideology that
I was too poor to travel and experience more, that I was restricted
here by my circumstances. Allowing finciances to restrict goals,
would be letting my monsters controll me. So I made the decisions
that I would be a part of international dialogue.
In every interaction between countries, between every deal made or
agreement established, interactive collaboration between hundreds of
people take place, working together to cooperate and create meaning
across an international forefront. I want to be a part of that. So
this year I spent my time in China as a Student Ambassador of the
State Department with the National Security Language Initiative, only
coming back just this week. Being here in China, I established
people-to-people diplomacy between our countries in a vital period of
change. As China's presence grows in the global economy and the
media, establishing a connection with one another, even among our
youth, is vital on an international scale.
So there I was in a "small city" by Chinese standards of just 5
million on the other side of the Pacific Ocean; I know the girl stuck
without a home or bed of her own I was a few years ago never saw
herself moving in this direction. But without putting myself out
there and helping my community I would have never realized how I
could help myself. It only makes me curious to where I may be years
from today. As long as I continue my life with the diligence that
brought me here to China, I have a feeling I will be satisfied with
the results. Everyone, every community, and every county, in this
world has their own personal monsters defined by individual
circumstances. I want to help them manage their control and power
over these monsters, on an individual, national, and global scale.
The only way to see if I will be satisfied with that future is by
living my life without the worry of my monsters dangling over me and
understanding that what is to come is determined by the way I choose
to set myself up now. I think about how it is all up to me now, and
can't help but crack a goofy grin; the world is open and all it takes
to explore it and make a difference is my own will.