Name: Richard Walter Daugherty III
From: Cedar Park, Texas
Grade: 11th
School: Cedar Park High School
Votes: 0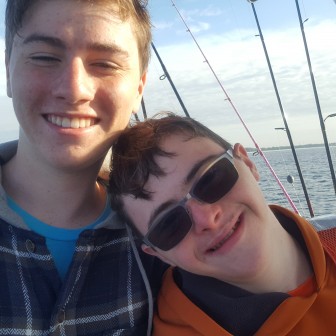 When I was 2 my family was blessed with my little brother Max,
unexpectedly born with Down syndrome. At 3 months old he had open
heart surgery. We stayed at a Ronald McDonald House—my first
experience of feeling love and comfort from RMH volunteers. Little
did I know the next 15 years of my life would be a choice every day,
to be the best "volunteer" for Max. Putting Max first became
second nature. Being compassionate, patient, creative and fun for Max
prepared me for engaging on a very personal level with others,
especially children.

Somewhere along the journey with my brother, I developed a genuine love for
humanity and desire to help, wherever help is needed—to make a
difference, one person at a time.  An unintentional progression
toward a lifelong habit. Not for a grade or to meet a requirement,
but because it is who we should become.
Favorite volunteer memories:
-Buying dozens of Five Guys burgers and spending the afternoon handing them
out to homeless individuals, listening to their life stories.
-Helping raise $5,000 for the Down Syndrome Assoc. Buddy Walk.
-Volunteer coach for the Texas Twisters youth swim team.
-Literacy tutor for elementary kids.
-Ronald McDonald House volunteer.
-Park clean up volunteer with friends.
-Most memorable: When my family stopped to pick up a young man sitting
in the middle of the road, waiting to be run over. We asked why he
wanted to end his life, told him how important he is, and that hope
overcomes the impossible. We took him to "Yellow House" (a place
for recovering for addicts).
Next to Max, I'm most passionate about a summer outreach program at our
church where 500 of our youth group team up to blanket the Austin
area. Teams go to 3 different host homes, have Backyard Bible Club to
play games and share God's word with kids and neighbors. The
program lasted 2 weeks, about 96 hours a week. The biggest challenge
was figuring out the best way to engage and entertain while also
teaching the kids life lessons we wanted to share. The best part of
BYBC was when we invited kids to ask questions and give them a chance
to consider a relationship with Jesus. When the kids would come over
and accept Jesus into their lives for the first time, getting to say
that prayer with them lifted my soul and was a feeling like no other.
To simply talk and play with these special kids, many who are "at
risk", to see their smiling faces was worth every sleepless night.
I realize how quickly I grew to love every child we impacted. The
work is extremely fulfilling and important to me.
Helping Max for 15 years inspired me to help other kids as well, especially
if I can bring them into a closer relationship with God. Max has
taught me more than I could ever teach him. This is a lifelong
journey for me.