Name: Karen Lopez
From: Moreno Valley , CA
Grade: Junior
School: Rancho Verde High School
Votes: 0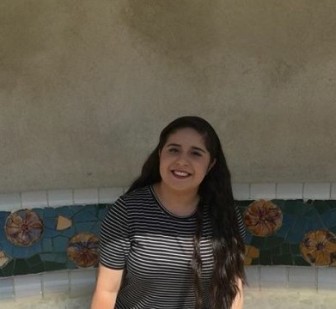 Karen
Daniela Lopez
One
of my leadership experience is volunteering at Kaiser Permanente. I
like to give back to my community. I started volunteering summer of
2015 and am currently volunteering. I have more than 300 hours in 1
year! I am one of the few volunteers that stayed volunteering.
Through volunteering I express my values through honesty, integrity,
and learning skills. I started volunteering at 15 years old I was
the youngest but, the only one that gained my supervisors trust to go
to different departments like OB/GYN, Oncology, Administration, and
Med Surgery. I was the only teen volunteer that has gotten an
opportunity to go to those departments because teen volunteers only
help in the information desk or materials management. I have learned
to work in groups for projects at Kaiser. I also train the new teen
volunteers. I didn't think I was influencing others to be like me
until, some volunteers told me they looked up to me for always
volunteering and working my way up. I realized that I was making a
difference by getting volunteers to enjoy volunteering and giving
back to our community. I am so proud of myself for not only making an
impact in my community, as small as it may seem to me it is a huge
accomplishment. I didn't realize I'm an inspiration to other
teens who want to make a difference too. I also give suggestions to
my supervisor about things that could be done the hospital since it
is a small hospital they don't have a lot of the same projects. I
asked if we can do cards for the patients in Moreno Valley too since
it was the only Kaiser hospital without the cards of kindness. This
September 2016, me and my supervisor thought it was great idea to go
to all the patients rooms and take magazines, water, treats, eye
masks and other things to make their stay at the hospital short and
better so they feel better. Helping others has always been a passion
of mine since I was little. I learned a lot from my position from
communication skills and making a difference in my community. The
best part about being a volunteer is that everything you do makes a
person smile. I know that all the help I do is helpful and I love
seeing people excited about volunteers. I have always loved helping
others and seeing them happy makes me happy because, I know I caused
that smile through my dedication of volunteering.