Name: Christianna Meggert
From: Fowlerville, Michigan
Grade: High School graduation year 2017
School: Fowlerville High School
Votes: 0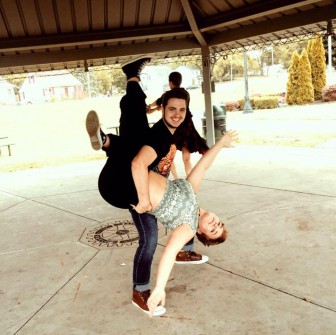 I choose to volunteer in youth outreach programs because I can personally see the value in them. Without the outreach program I began participating in summer 2014, that am now running, I never would have made the friends
I have and become the person I am now. I volunteer my time running my town's chapter of Swinginfusion. We teach teen's ballroom style dancing but mainly swing dancing, and provide a safe and clean environment for teens to interact and express themselves.
As the President of my town's chapter I was placed in charge of advertising through social media and local businesses. I was also required to stand in front of my Town Council and local Rotary Club to gain permission to access our town's park and funding to install adequate lighting. I had to learn money management skills in order to know what we could afford and what we would have to find sponsors for. Every week I spent four hours at our venue cleaning, setting up,
hosting each event, and cleaning up at the end of the night. During the week I also spent numerous hours handling other aspects of the business side of things as well as talking to parents and students about the program.
My largest challenge personally with running this club was finding time for everything I wanted to do. I have responsibilities to my friends and family as well as school and my job, I am also a musician an artist, and an athlete. I found that just because I'm tired after a long day, none of these things can be ignored. However, my greatest obstacle with the program was that I didn't receive support from many of the other successful clubs around me, because my town is so far away. I realized very quickly how hard it was to build something from nothing, I didn't have support from my community
either. In fact there were a few nights no one showed up to the events at all.
On the contrary there were nights when there were 30- 40 people enjoying themselves and making friends. On those nights I could see my peers coming together which in my town is rare unless it involves drugs or the football team. It was amazing seeing so many people participating in something I love, something that is good for our community.
In Fowlerville we have Centennial Park but no one knows what it's called technically. My peers call Fowlerville's Centennial Park the 'druggie park' because that is where the 'bad kids' do their drugs, because that's where 'trash' hangs out. Centennial Park is the venue for every one of our dances. My hope is that Centennial Park will be known by its name for once and that the kids that have created the nick name 'Druggie Park' by their actions will be brought out of those habits. My hope is that I can create a positive influence for the youth of my community to see and follow.